The Domestic Rebel's Pop-Tart Cookie Dough S'mores
Football Frankenfood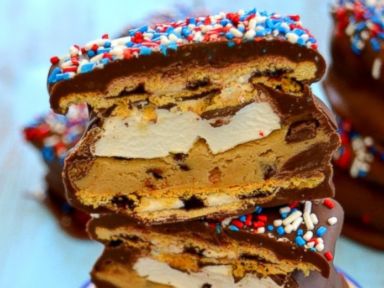 From the kitchen of The Domestic Rebel
2014 is the year of the next-level food mash-up, and we're here to roll that into your game day lineup. May we present to you this crazy (good), insane(ly delicious) frankenfoods especially tailored for football season? Make The Domestic Rebel's Pop-Tart Cookie Dough S'mores, and your next tailgate will be the sport season's biggest event -- guaranteed. You're very, very welcome.
Ingredients
1 box (4 pkgs) S'mores PopTarts (if you can't find S'mores, substitute Cookies N Cream or Chocolate Chip)
8 Jet-Puffed Square S'mores Marshmallows (or Stackermallows, which are long, thin marshmallows ideal for stacking for s'mores)
1 1/2 packages chocolate Candiquik
Sprinkles
For egg-free cookie dough:
1 stick butter, softened
3/4 cup brown sugar
1/4 cup white sugar
1 tsp vanilla
2 tsp milk
Dash salt
1 1/2 cups all-purpose flour
1/2 cup miniature chocolate chips
Cooking Directions
Line a rimmed baking sheet with foil or a silicone liner and set aside. Cut each PopTart in half crosswise; you'll have 16 fat little squares total. Set aside.
In the bowl of a stand mixer, cream together the butter, brown sugar and sugar with the paddle attachment until creamy. Beat in vanilla and milk to combine. Stir in salt and flour to combine, then stir in the chocolate chips.
Take a marshmallow and gently tug on it to help stretch it out into a longer rectangular shape. You don't need to completely stretch it, just until it fits on the PopTart better. Gently press onto the flat, unfrosted side of a PopTart half. Take a Tablespoon-sized ball of dough and press it into a rectangular shape with your fingers. Gently press the cookie dough onto the other flat, unfrosted side of the PopTart half. Then smoosh the two halves together; place on the baking sheet and repeat with remaining s'mores.
Freeze the s'mores for about 30 minutes-1 hour or until solid. Melt the Candiquik according to package directions and pour the mixture into a deep bowl with high sides; it makes it easier to submerge the s'mores.
Dunk each s'mores into the chocolate, coating completely. Allow excess chocolate to drip off (I use a fork for easier dunking) and return to the baking sheet; immediately top with sprinkles in the colors of your team. If the two halves come apart, spread some melted chocolate on top of the marshmallow and resandwich the halves, waiting about a minute or two before dunking the entire thing (the chocolate will seal the sandwich together faster when the s'more is super cold).
Store leftovers in the fridge or freezer. They're good room temperature or cold!
Recipe Summary
Main Ingredients: poptarts, marshmallows, candiquik, sugar, mini chocolate chips
Course: Dessert