Kellyann Petrucci's Pork Chili Recipe
A Pork Chili, Perfect for Your Tailgate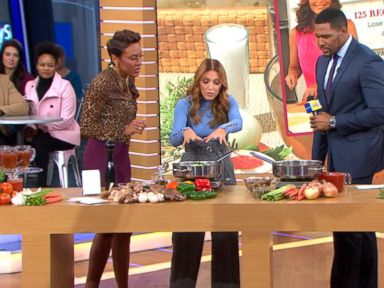 The nutritionist explains the benefits of bone broth for your health and shares some of her recipes.
From the kitchen of Kellyann Petrucci
Kellyann Petrucci, the author of "Dr. Kellyann's Bone Broth Cookbook," shared her recipe for pork chili on "Good Morning America."
"I take this chili to tailgate parties, and there's never a bite left over," she said. "The pork is an interesting change of pace from the usual hamburger."
Ingredients
1 tablespoon olive oil
1 pound pork tenderloin, cubed
1 teaspoon Celtic or pink Himalayan salt, plus more to taste
½ teaspoon freshly ground black pepper, plus more to taste
1 medium onion, chopped
2 cloves garlic, minced
1 green bell pepper, chopped
4 ounces mixed mushrooms, sliced
1 jalapeño pepper (optional), seeded and finely chopped (wear gloves when handling)
1 can (28 ounces) crushed tomatoes
1 cup Beef Bone Broth
1 teaspoon ground cumin
½ teaspoon dried oregano
2 or 3 scallions, thinly sliced
Cooking Directions
In a large pot, heat the oil over medium heat. Season the pork with salt and pepper, add to the pot, and brown on all sides, about 2 minutes per side. Remove the meat from the pot.
Add the onion and garlic to the pot and cook until softened, about 4 minutes. Add the bell pepper, mushrooms, and jalapeño (if using) and cook until beginning to soften, 3 minutes more. Return the meat to the pot and add the tomatoes, broth, cumin, and oregano and bring to a boil. Reduce the heat and simmer until thickened, about 30 minutes. Season to taste with salt and pepper.
Serve topped with scallions.
This recipe is reprinted with permission from "Dr. Kellyann's Bone Broth Cookbook" by Kellyann Petrucci, MS, ND. Copyright (c) 2016 by Dr. Kellyann Petrucci, MS, ND. By permission of Rodale Books. Available wherever books are sold.
Food styling by Karen Pickus for "Good Morning America."
Recipe Summary
Main Ingredients: olive oil, pork tenderloin, salt, black pepper, onion
Course: Dinner