Potato Leek Soup
A Hearty Winter Soup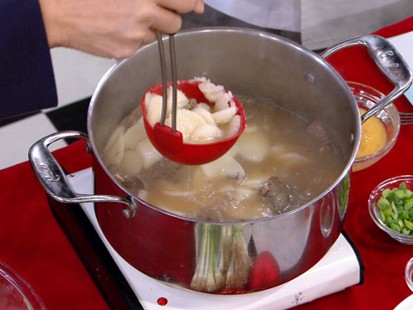 Emeril Lagasse enters Juju's kitchen for a traditional Korean dish, Duk Guk.
From the kitchen of Tosca Renl
|
Are you looking for something for dinner tonight? Try this winter soup. Your family is sure to enjoy it.
Ingredients
6 leeks whites only rinsed, drained and coarsley chopped
4 medium baking potatoes
1 Tbsp extra virgin olive oil
1/8 cup chopped onion
3 cloves garlic
8 cups low sodium, low fat chicken broth
Cooking Directions
Wash leeks thoroughly. Cut into pieces. Place in a coriander and rinse again. Drain. Peel potatoes and cut into one in chunks. In a large saucepan or Dutch oven heat oil. Add leeks, potatoes, onions and garlic. Cook for 5 to 10 minutes until soft. Add stock to a saucepan and bring to a boil. Once mixture has come to a full boil reduce heat and cook for 30 minutes until vegetables are soft. Process in food processor.
Other Recipes That You Might Like