FOOD & WINE's Potato Salad with Hummus-Yogurt Dressing
Outdoor Eats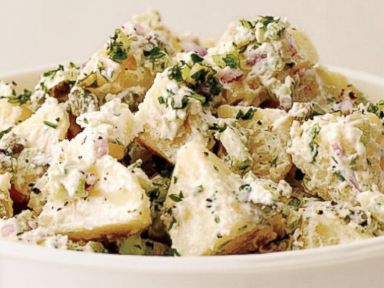 From the kitchen of FOOD & WINE
Memorial Day officially kicks off grilling season, and Gail Simmons, FOOD & WINE special projects director and a judge on Bravo's Top Chef, stopped by "Good Morning America" to share the ultimate outdoor dishes. Try FOOD & WINE's recipe for Potato Salad with Hummus-Yogurt Dressing below.
Ingredients
2 pounds Yukon Gold potatoes, scrubbed
1/2 cup hummus
3/4 cup nonfat plain yogurt
1 cup finely diced celery
1/4 cup finely diced cornichons
1/4 cup chopped flat-leaf parsley
3 tablespoons finely diced sweet onion
Salt and freshly ground pepper
Cooking Directions
In a large pot, cover the potatoes with water and bring to a boil. Simmer over moderate heat until the potatoes are tender when pierced with a knife, about 20 minutes. Drain and let cool. Peel the potatoes and cut into 1-inch pieces.
In a large bowl, mix the hummus with the yogurt, celery, cornichons, parsley and onion. Fold in the potatoes, season with salt and pepper and serve.
Note: The potato salad can be refrigerated overnight.
Recipe courtesy of FOOD & WINE magazine.
Recipe styled by Karen Pickus for Good Morning America.
Recipe Summary
Main Ingredients: new potatoes, red onion, scallions, dijon mustard, lemons, half-sour pickles, sugar snap peas
Course: Side Dish