Chef Marc Forgione's pressed burgers with secret sauce recipe
Try this tropical spin on a burger!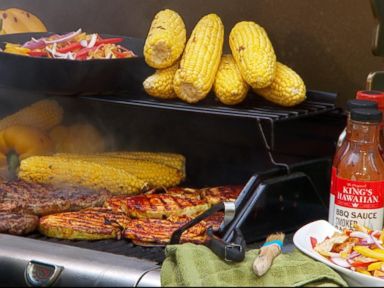 The chef shared some delicious recipes for burgers, brisket sliders and pineapple monkey bread live on "GMA."
From the kitchen of Marc Forgione
Chef Marc Forgione shared his pressed burger recipe with "GMA" for your summer block party. Try the recipe below to make this savory summer favorite in your kitchen. King's Hawaiian is a sponsor of "Good Morning America."
Ingredients
4 5-ounce burger patties (85 percent fat ratio recommended)
Salt
Pepper
Vegetable oil
Sliced aged cheddar
King's Hawaiian Hamburger Buns
King's Hawaiian Smoked Bacon BBQ Sauce
Shredded iceberg lettuce
Thinly sliced tomato
Diced bread and butter pickles
Cooking Directions
Preheat grill to medium-high. Season patties liberally with salt and pepper. Brush grill lightly with vegetable oil. Grill patties for four minutes and then flip and grill on the other side for three minutes for medium-rare.
Remove burgers from grill and top each with a slice of cheese.
While the burgers are resting, brush the tops and bottom of the buns with melted butter and spread some of the King's Hawaiian Smoked Bacon BBQ sauce on the inside of each side of the bun. Place burger on top of bottom bun and top with tomato, lettuce, pickles and top of bun.
Use a Panini press or George Forman grill to press the burgers for two to three minutes or heat a large sauté pan or cast iron pan on the grill. When hot, place burgers into the pan and press down with a spatula (like you're making a grilled cheese) for two minutes. Flip and repeat on the other side.
Remove burgers from the pan and serve immediately.
Recipe printed courtesy of Marc Forgione
Recipe Summary
Main Ingredients: beef, king's hawaiian bread, tomato, lettuce
Course: Main Course