Tasting Table's Profiteroles with Chocolate Sauce
Food Is Love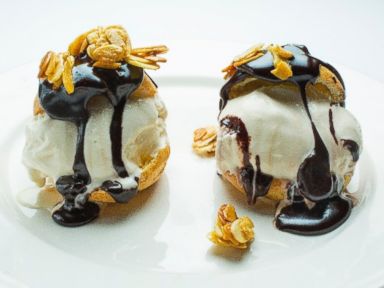 From the kitchen of Tasting Table
|
Valentine's Day is your opportunity to do it up -- whether flying solo, with friends or a loved one -- in the kitchen. Go big this year with deceivingly easy and romantic recipes like these profiteroles with chocolate sauce from the Tasting Table test kitchen.
Ingredients
Profiteroles
7 tablespoons unsalted butter, cut into pieces
1/2 cup whole milk
1/2 cup cold water
1 teaspoon granulated sugar
1/4 teaspoon salt
1 cup plus 2 tablespoons all-purpose flour
4 large eggs
1 large egg white
Vanilla ice cream
Chocolate sauce (see below)
Caramelized almond slices (see below)
Caramelized Almond Slices
3/4 cup sliced almonds
1 1/2 tablespoons granulated sugar
1 tablespoon unsalted butter
Pinch sea salt
Cooking Directions
Make the profiteroles: Heat the oven to 425 degrees F and arrange a rack in the middle. Line a large baking sheet with parchment paper. Fit a pastry bag with a 1/2-inch round tip.
Combine the butter, milk, water, sugar and salt in a medium saucepan and set over medium heat. Stir with a wooden spoon until the butter has melted. Bring the mixture to a boil, then remove from the heat. Add the flour all at once and stir quickly with a wooden spoon until a dough forms, about 30 seconds. Return the saucepan to medium heat and cook, stirring constantly, until a film forms on the bottom of the pan and the dough no longer smells of raw flour, about 3 minutes.
Transfer the dough to a stand mixer fitted with a paddle attachment. Mix the dough for a few turns about every 30 seconds to release steam until the dough is slightly cooled, for about 4 minutes total.
With the mixer on low, add the eggs and egg white one at a time, making sure each egg is incorporated before adding the next. (The dough will separate each time an egg is added but it will come back together.)
Transfer the dough to the pastry bag. Pipe into 2-inch circles, spacing them about 1 inch apart on the baking sheet. Coat your finger with butter and dab each dough peak to smooth it.
Bake for 10 minutes, then reduce the heat without opening the oven door to 375 degees F and bake until dark golden brown, 15 to 20 minutes more. Remove from the oven and quickly pierce the side of each puff with a paring knife to release steam. Return to the oven and bake until browned, 5 to 10 minutes more. Set the baking sheet on a cooling rack and immediately cut the puffs horizontally in half. Let cool completely on the baking sheet. Once cool, puffs can be stored in an airtight container at room temperature for a few days or in the freezer for several weeks.
Caramelize the almonds: In a large skillet over medium heat, cook the almonds, shaking the pan often, until lightly toasted, about 2 minutes. Transfer to a baking sheet. Sprinkle the sugar in the now-empty skillet, increase the heat to medium-high and, without stirring, let the sugar melt (shaking the pan helps). When the sugar has melted and is light brown, about 1 to 1 1/2 minutes, stir in the butter and salt. Gently stir the almonds into the caramel to coat and cook, shaking the pan or stirring the almonds constantly, until browned, about 2 minutes more. Transfer to the baking sheet to cool. Season to taste with salt.
To serve: reheat profiteroles in a 300 degrees F oven until warmed through. Fill each profiterole bottom with a scoop of vanilla ice cream, then top with profiterole "lid." Top with chocolate sauce, and sprinkle with caramelized almonds.
Chocolate Sauce
Yield: About 3 cups
1 cup heavy cream
1/2 cup sugar
1/2 cup light corn syrup
1/2 cup unsweetened Dutch-processed cocoa powder
1/2 teaspoon vanilla extract
1/4 teaspoon fine sea salt
5 ounces bittersweet chocolate, finely chopped
2 tablespoons unsalted butter, cut into small pieces
In a medium saucepan, whisk together the cream, sugar, corn syrup, cocoa powder, vanilla and salt.
Bring to a gentle boil over medium heat, whisking often. Remove from the heat and stir in the chopped chocolate and butter until melted. Serve warm.
Refrigerate excess sauce in an airtight container for up to 3 weeks or freeze.
Recipe courtesy Tasting Table test kitchen.
Other Recipes That You Might Like