Home
>
GMA
>
Recipes Home
>
Tasting Table's Prosciutto-Wrapped Pears with Maple Syrup and Cracked Peppercorns
Tasting Table's Prosciutto-Wrapped Pears with Maple Syrup and Cracked Peppercorns
Game Day Grub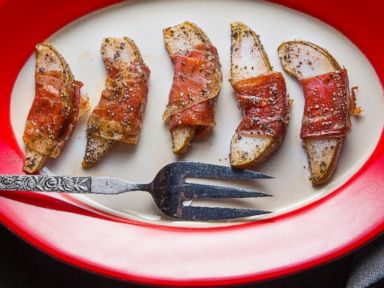 From the kitchen of Tasting Table
|
Sure, you could grab some frozen apps for your Super Bowl party. But why would you when you could make something as easy and delicious as homemade snacks from the Tasting Table test kitchen? Step up your game day grub this year with Prosciutto-Wrapped Pears with Maple Syrup and Cracked Peppercorns.
Ingredients
3 tablespoons maple syrup
2 tablespoons coarsely cracked black pepper
2 ripe Bartlett pears
12 slices prosciutto (about 6 ounces total), halved lengthwise
Cooking Directions
Preheat the oven to 375°. Line a baking sheet with parchment paper.
In a medium bowl, whisk the maple syrup and 1 1/2 tablespoons of the cracked black pepper.
Halve and core the pears. Cut each half into 6 lengthwise slices, for 24 total slices. Immediately toss pears in maple syrup mixture to coat.
Remove pear slices from the maple syrup mixture, let the excess syrup drip off and wrap each with a slice of prosciutto. Place the prosciutto-wrapped pears on the baking sheet and sprinkle with the remaining ½ tablespoon black pepper.
Bake until the prosciutto is crisp and begins to brown, about 12 minutes. Brush with more maple syrup and toast them under the broiler until crisp, 1 to 2 minutes. Cool slightly and serve warm.
Recipe from the Tasting Table Test Kitchen.
Other Recipes That You Might Like