Justin O'Connor's Pulled BBQ Guinness Braised Beef Sloppy Joes
St. Patrick's Day Food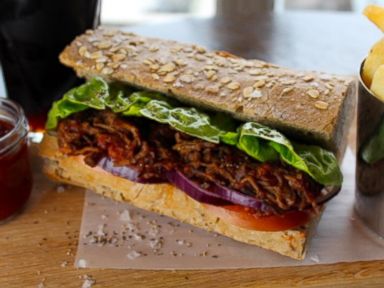 From the kitchen of Justin O'Connor
It's pretty safe to say the the Guinness Storehouse executive chef knows how to cook Irish specialties using the stout beer. Celebrate St. Patrick's Day this year with chef Justin O'Connor's recipe for Pulled BBQ Guinness Braised Beef Sloppy Joes.
Ingredients
3 pounds brisket of beef
1 onion, finely chopped
3 garlic cloves crushed
1 red chili, deseeded and finely chopped
3 1/2 tablespoons white wine vinegar
Juice of 1 orange
3 1/2 tbsp Worcestershire sauce
1 tablespoon of mustard
1 tablespoon brown sugar
1 tablespoon runny honey
1 cup tomato ketchup
1 1/4 cups Guinness
Salt and freshly ground
Slices of toasted sourdough
Cooking Directions
Preheat oven to 300 degrees. Place all ingredients, except the sourdough, in a bowl with the beef and mix well.
Place in a roasting tray and cover with foil. During cooking baste the beef from time to time. Cook for 3 hours or until meat is tender.
Keep the juices in the tray, cool a little and shred the beef. Add back into the tray and mix in with the juices. Bring back to the heat and serve on some toasted sourdough with some slaw.
Recipe courtesy Guinness Storehouse.
Recipe Summary
Main Ingredients: beef brisket, orange, guinness, mustard
Course: Dinner