Mario Batali's Pumpkin Fritters
A Savory Fall Treat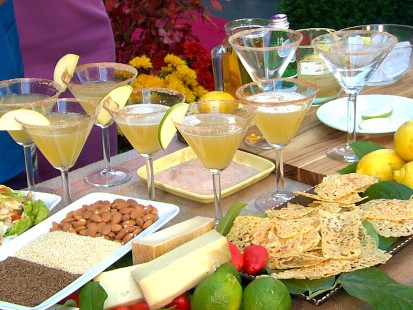 Carla Hall, Michael Symon, Daphne Oz, Mario Batali and Clinton Kelly share recipes on "GMA."
From the kitchen of 'The Chew''s Mario Batali
|
Fall is in the air and nothing feels more seasonal on the dinner table than a batch of pumpkin fritters. Try Mario Batali's recipe from the new cookbook, "The Chew: What's for Dinner?"
Ingredients
1 ½ Cups fresh or canned pumpkin puree or butternut squash puree (see note in cooking directions)
2 large eggs
½ Cup Unbleached all-purpose flour
½ Teaspoon baking powder
1 Teaspoon kosher salt
¾ Cup grated Parmigiano-Reggiano, plus more for garnish
¼ Cup fresh flat-leaf parsley, finely chopped, plus more for garnish
1/8 Teaspoon freshly grated nutmeg
Finely ground black pepper, to taste
Olive Oil, for deep frying
Good balsamic vinegar, for garnish
Cooking Directions
Place the pumpkin puree in a medium bowl. Lightly beat the eggs with a fork and stir them into the pumpkin with a wooden spoon or spatula. In another bowl, whisk together the flour, baking powder, and salt. Add the dry ingredients to the puree mixture along with the grated cheese, parsley, nutmeg, and a pinch of black pepper. Use the wooden spoon or fork to combine all the ingredients into a light batter; be careful not to overmix it.
Heat the olive oil to 360 F in a heavy-bottomed pot. Fill the pot no more than two-thirds of the way full, allowing room for oil to expand. Drop heaping tablespoons of the batter into the oil, and cook until the fritters are golden brown. Fry in batches, cooking for about 2 minutes per side.
Drain the fritters on paper towels and season with salt. Garnish with Parmigiano, parsley and balsamic vinegar.
NOTE: If you are using a fresh pumpkin, cut the pumpkin and scrape out the seeds and stringy bits. Rub the inside with olive oil (or softened butter) and season with salt. Place the cut side down on a sheet tray lined with parchment and cook in the oven at 400 until soft, about 40-45 minutes. Scrape out the puree and toss the skins.
Reprinted with permission from "The Chew: What's for Dinner?: 100 Easy Recipes for Every Night of the Week."
This recipe was styled by chef Karen Pickus for Good Morning America.
Recipe Summary
Main Ingredients: pumpkin, flour, eggs, parmigiano-reggiano, oil
Course: Appetizer/Starter, Dinner, Party Platter, Side Dish, Vegetable, Starch, Lunch
Other Recipes That You Might Like