'GMA' Viewer Cherie Michaud's Pumpkin Graham Cracker Cookie
Try This Christmas Treat!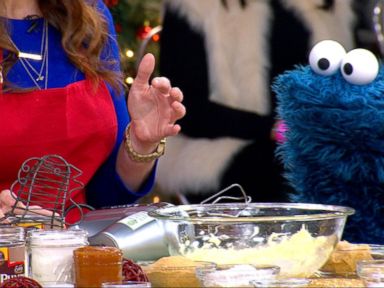 Gail Simmons, the special projects director of Food + Wine, joins to judge the finale of the "GMA" cookie search, plus the Cookie Monster makes a special appearance.
From the kitchen of Cherie Michaud
"Good Morning America" is counting down to Christmas and wants to see your favorite original holiday cookie recipes. "GMA" viewer Cherie Michaud, from North Carolina, shared her recipe for her famous pumpkin graham cracker cookies.
Ingredients
1 egg
1 tsp vanilla extract
1 cup all-purpose flour
1 1/2 cup graham cracker crumbs
3/4 cup unsalted butter, softened
1/4 cup brown sugar
1/2 cup sugar
1/2 tsp salt
1/2 tsp baking soda
Butter Frosting:
3 3/4 cup powdered sugar
1/4 cup unsalted butter, softened
1/2 tsp cinnamon
1/2 tsp vanilla extract
1/2 tsp nutmeg
1/2 cup and 3/4 tsp pumpkin filling
1 tsp whole milk
Cooking Directions
Beat together butter and sugars until light and fluffy.
Once those ingredients are blended, add the egg and vanilla and mix well.
Add the graham cracker into a food processor to make crumbs.
Add combined flour, graham cracker crumbs, baking soda and salt to the mix. Be sure to mix well.
Wrap the dough plastic wrap and refrigerate for 30 minutes. Then roll out flat with rolling pin and make into round balls, place on sheet pan.
Bake the cookies for 8-10 minutes at 350 degrees F.
Take the cookies and let them cool on a cooling rack for 15-20 minutes.
While the cookies are cooling, mix your unsalted butter, milk, pumpkin and vanilla extract in the mixer.
Once those ingredients are combined, add the powdered sugar, cinnamon, and nutmeg into the mixer and mix on low to medium speed for 1-2 minutes.
Once the cookies are cooled, add the frosting on top of each cookie and enjoy!
Recipe courtesy Cherie Michaud.
Recipe styled by Karen Pickus, chef/food stylist, "Good Morning America."
Recipe Summary
Main Ingredients: brown sugar, salt, flour, graham crackers, powdered sugar, pumpkin filling
Course: Dessert