Food & Wine's Pumpkin Pie Bars
Pie For A Crowd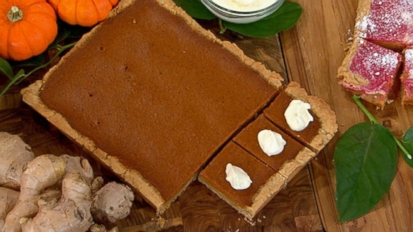 Gail Simmons' pie bars simplify your holiday dessert menu.
From the kitchen of Food & Wine
Baking pies for a large crowd can be intimidating and time-consuming, but Gail Simmons stopped by "Good Morning America" with Food & Wine's quick fix. By using an easy press-in crust and turning the pies into bars, you can feed large amounts of people with a lot less work. Try these simple pumpkin pie bars this Thanksgiving.
Ingredients
1/4 cup dark brown sugar
1/2 cup granulated sugar
1 teaspoon cinnamon
1/4 teaspoon ground cloves
1/4 teaspoon ground ginger
1/4 teaspoon ground cardamom
1/4 teaspoon salt
2 large eggs
One 15-ounce can pure pumpkin puree
One 12-ounce can evaporated milk
Crème fraîche, for serving
Cooking Directions
Preheat the oven to 425°. In a small bowl, whisk the sugars with the spices and salt. In a medium bowl, whisk the eggs. Whisk in the sugar mixture, then whisk in the pumpkin puree and the evaporated milk until smooth.
Pour the filling into the crust and bake for 10 minutes. Lower the oven temperature to 350° and bake for about 25 minutes longer, until the filling is fully set. Transfer the pan to a rack and let cool completely. Cut into bars and serve with crème fraîche.
Make Ahead: The pumpkin pie bars can be refrigerated for up to 2 days. Serve chilled or at room temperature.
Recipe contributed by Sarah Jordan.
This recipe was styled by chef Karen Pickus for Good Morning America.
Recipe Summary
Main Ingredients: pumpkin puree, evaporated milk, dark brown sugar, sugar
Course: Dessert