Rachael Ray's Muffaletta Panini
Make This Tasty Gourmet Sandwich for Lunch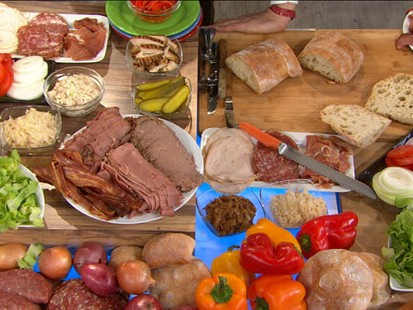 The Food Network star leads a great "Sandwich off" competition.
From the kitchen of Rachael Ray
Use a panini press to create this gourmet sandwich with ciabatta bread. Rosemary ham and olives give this sandwich a lot more flavor than your regular ham and cheese.
Ingredients
1 pint pitted Sicilian green olives
1 large (16-ounce) jar giardiniera, drained
2 tablespoons EVOO – Extra Virgin Olive Oil
1 large ciabatta, split open lengthwise
1/2 pound salami
1/2 pound rosemary proscatto or rosemary ham
8 slices provolone cheese
Cooking Directions
Preheat a panini press or place a large skillet over medium-high heat.
Chop the olives and giardiniera together into a relish. In a small bowl, combine the relish and the EVOO. Spread the relish over one side of the ciabatta.
Layer the meats and cheese over the relish and cap the sandwich off with the other ciabatta half. Slice the sandwich as needed so it fits into the press or pan and grill it until toasted and heated through. If using a skillet, weigh the sandwich down with another pan and flip it over after one side is toasted.
Cut the sandwich up and serve.
This recipe was styled by chef Karen Pickus for Good Morning America.
Recipe courtesy Rachael Ray.
Recipe Summary
Main Ingredients: salami, green olives, giardiniera, ciabatta, provolone
Course: Snack
More Info: Kid Friendly