Home
>
GMA
>
Recipes Home
>
Rachael Ray's Roasted Chicken With Potatoes and Veggies With Dijon Asparagus
Rachael Ray's Roasted Chicken With Potatoes and Veggies With Dijon Asparagus
This Crowd-Pleasing Dish Makes a Great Family Dinner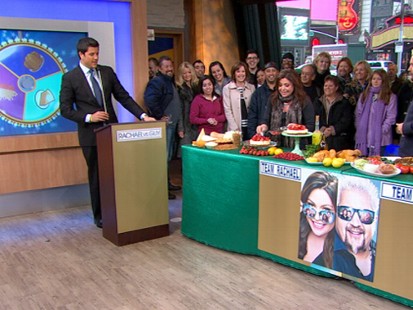 Stars of Food Network's "Celebrity Cook Off" go head-to-head, answering popular cooking queries.
From the kitchen of Rachael Ray
|
This roasted chicken with potatoes and veggies makes a great dish for a family dinner, any night of the week.
Ingredients
2 turnips, cut into large wedges
4 parsnips, peeled and cut on a long bias
3 carrots, peeled and cut on a long bias
3 shallots, peeled and quartered
1 fennel bulb, cored and cut into wedges (chop and save fennel fronds for herb rub)
1 cup dry white wine
Salt and freshly ground black pepper
1/4 cup tarragon, roughly chopped
1/4 cup parsley, roughly chopped
6 cloves garlic, grated
Zest of 1 lemon
1/2 cup extra-virgin olive oil (EVOO), plus 2 tablespoons and additional for drizzling
4 large bone-in, skin-on chicken breasts
4 thigh/leg pieces, left whole and not disjointed
2 pounds small white potatoes, quartered
1 bunch thin asparagus
4 leeks, cleaned well and thinly sliced, white parts only
2 teaspoons Dijon mustard
1 tablespoon butter
Cooking Directions
Preheat oven to 425°F.
Place turnips, parsnips, carrots, shallots, fennel wedges and wine into a roasting pan. Drizzle with EVOO and season with salt and pepper.
In a small bowl, combine the chopped fennel fronds, tarragon, parsley, grated garlic, lemon zest, 1/2 cup of EVOO, salt and pepper. Rub mixture all over the chicken, place the pieces on top of the vegetables in the roasting pan and season with salt and pepper.
Bake for 60-90 minutes, or until chicken is cooked through and vegetables are tender. Remove from oven, cover loosely with foil and let rest 10-15 minutes.
Once the chicken has been in the oven for 45 minutes to an hour, place the potatoes in a medium saucepot and cover with cold, salted water. Place on high heat and bring up to a boil. Cook 12-15 minutes, or until potatoes are cooked through. Drain potatoes and set aside.
Once the chicken is out of the oven, add one inch of water to a high-sided skillet and place over high heat. Bring to a simmer and add asparagus. Cover and cook for 5-8 minutes or until asparagus is tender.
As the asparagus is cooking, place a medium saute pan over medium-high heat, add 2 tablespoons EVOO. Saute sliced leeks and season with salt and pepper. Add the cooked potatoes to the leeks, season with salt and pepper and toss to combine. Saute for 2-3 minutes until slightly browned. Drain the asparagus and return to them skillet. Place over medium heat and add the Dijon and butter. Toss until the butter has melted.
To serve, place a portion of chicken on a dinner plate, add a scoop of the roasted veggies and spoon some of the pan juices over the top. Serve the Dijon asparagus and the potato-leek mixture alongside.
Original recipe courtesy Rachael Ray
This recipe was styled by chef Karen Pickus for Good Morning America.
Other Recipes That You Might Like