Rachael Ray's Buzzer Beater Chili
Perfect for Watching the Final Four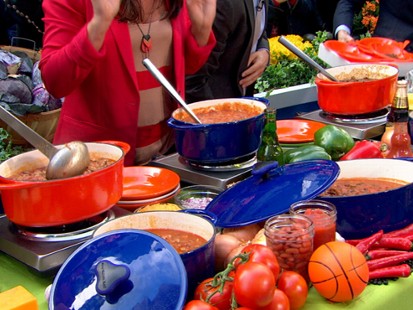 TV-chef puts unique twists on guacamole and a chili bar that is sure to impress.
From the kitchen of Rachael Ray
|
Theis chili is perfect for watching the final four basketball games on television.
Ingredients
3 dried ancho chili peppers, stemmed and seeded
2 dried guajillo or pasilla chili peppers, stemmed and seeded
3 cups beef stock
1 tablespoon vegetable or olive oil
1/2 pound fresh Mexican chorizo, casing removed or 1/3 pound center-cut bacon, finely chopped
2 pounds ground beef chuck – ask your butcher for a coarse grind
Kosher salt (makes a nice crust on meat) and coarse black pepper
1/4 cup Worcestershire sauce
1 large onion, chopped
4 cloves garlic, chopped
1 fresh chili pepper, red Fresno or jalapeño, seeded and chopped, or sliced for extra heat
1 1/2 teaspoons Mexican oregano (half a palmful)
1 tablespoon cumin (a palmful)
1 tablespoon coriander (a palmful)
1/4 teaspoon ground cloves
A pinch of cinnamon
1 bottle Negra Modelo beer (12 ounces)
1 tablespoon honey
3 tablespoons masaharina or cornmeal
Cooking Directions
Place the dried chili peppers in a pot and cover with stock. Bring to a low boil and reduce the heat to low. Simmer gently, 10-15 minutes, then puree and reserve. Meanwhile, heat a Dutch oven with the vegetable or olive oil over high heat. Add the chorizo or bacon and begin to render. Pat the ground beef dry with a paper towel and season with salt and pepper.
Add to the pot and develop a nice crusty brown on the beef. Add the onion, garlic, fresh chili, oregano, cumin, coriander, cloves and cinnamon. Cook the onion until soft; deglaze the pan with beer. Stir in the dried chili puree, honey and cornmeal; reduce the heat and simmer to thicken and develop the flavor, 45 minutes, over low heat. Cool and store for a make-ahead meal; then bring to room temperature and add a little water to reheat over medium flame. Serve with toppings of your choice.
Recipe courtesy Rachael Ray.
This recipe was styled by chef Karen Pickus for Good Morning America.
Other Recipes That You Might Like