Rachael Ray's Caesar Salad with Kale
A Delicious Reason to Eat Your Greens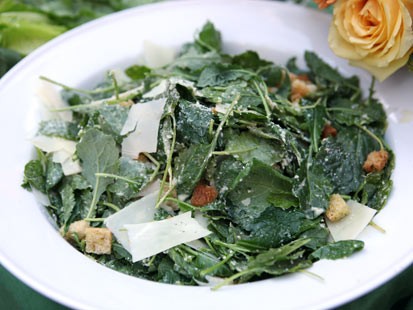 From the kitchen of Rachael Ray
We use tender kale straight from our garden. And I always use farmers' market eggs in a Caesar salad to lower the risk of salmonella. If you use very fresh eggs from a reliable source, you can make Caesar salad or anything with a soft yolk.
Ingredients
4 cloves garlic
6 tablespoons EVOO
1 packed cup cubed Pullman bread (1- to 11/2-inch cubes)
Coarse black pepper
2 teaspoons anchovy paste (optional for strict vegetarians)
6 to 8 drops Worcestershire sauce (about 1 teaspoon) (optional for strict vegetarians)
1 large organic egg yolk or 1/4 cup pasteurized egg product
Juice of 1 large lemon
5 to 6 cups stemmed and chopped kale, or a combination of kale and romaine lettuce
2 handfuls of freshly grated Pecorino Romano or Parmigiano-Reggiano cheese
Coarse salt
Cooking Directions
Crack the garlic away from its skin with a good whack of your hand against the flat of your knife, centered on top of each clove. Rub the inside of your salad bowl (I use a wooden bowl) with a clove of cracked garlic. Place that clove and a second clove aside.
Mince the remaining 2 cloves and place them in a small bowl.
Heat a small skillet over medium heat. Add 2 tablespoons EVOO (2 turns of the pan) and the 2 cracked garlic cloves. When the garlic "speaks" by sizzling in the EVOO, add the bread cubes and toast until golden, tossing occasionally, 6 to 8 minutes. Sprinkle the cubed bread with a little pepper and remove from the heat.
Combine the minced garlic and the remaining 4 tablespoons EVOO (3 glugs) in a small bowl or in a small skillet. Heat the garlic and EVOO, either in a microwave oven for 1 minute, or over low heat on a stovetop for 2 to 3 minutes. Stir the anchovy paste into the warm EVOO with a fork and let stand until the EVOO returns to room temperature. (I go a little heavier on the anchovy paste for my family. We use up to a good solid tablespoon; we like a lot of anchovy in the dressing.)
Add the Worcestershire sauce and egg yolk to a salad bowl and stir with a fork. Add the lemon juice and stir into the egg. Add the EVOO-garlic-anchovy mixture in a slow stream and continue to beat with a fork.
Add the kale to the bowl and toss to coat. Add a generous amount of cheese and the croutons and toss again to coat. Season with salt and pepper to taste (I use a ton of black pepper).
Recipe courtesy Rachael Ray.
This recipe was styled by chef Karen Pickus for Good Morning America.
Recipe Summary
Main Ingredients: garlic, bread, kale, yolk
Course: Salad