Rachael Ray's Chuck Burgers with Parmesan Sauce and Balsamic Drizzle
Gourmet Burgers You Can't Resist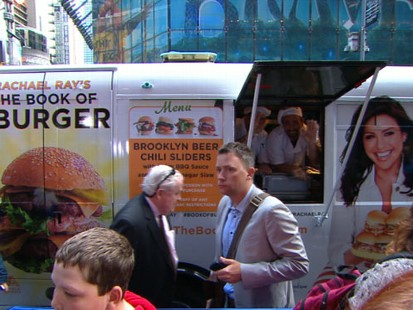 The TV chef talks about her food truck and her new book, "The Book of Burger."
From the kitchen of Rachael Ray
These burgers put the average cheeseburger to shame.
Ingredients
3 vine-ripened tomatoes, cored and sliced 1/4 inch thick
2 tablespoons EVOO (extra-virgin olive oil), plus more for drizzling
Kosher salt and pepper for seasoning, plus 1 teaspoon coarsely ground pepper for the sauce
11/2 pounds coarse-ground beef chuck (see Tip, page 6)
3 tablespoons butter
2 cloves garlic, finely chopped or grated
2 tablespoons flour
3/4 cup milk
1/3 cup grated Parmigiano-Reggiano cheese (a couple of small handfuls)
Balsamic drizzle (see Tip)
Leaf lettuce
4 kaiser rolls, split and toasted
1/2 cup basil leaves (8 to 10), thinly sliced
Cooking Directions
Preheat the oven to 325°F.
Set a cooling rack over a baking sheet. Arrange the tomatoes on the rack, then drizzle with a touch of EVOO. Season with salt and pepper. Roast the tomatoes 45 minutes.
When the tomatoes are about ready, heat a large skillet over medium-high heat.
Season the beef with salt and pepper. Score the mixture into 4 equal portions and form them into patties slightly thinner at the center than at the edges for even cooking and to ensure a flat surface (burgers plump as they cook). Add the 2 tablespoons EVOO, 2 turns of the pan, to the hot skillet. Cook the burgers, flipping once, 10 minutes for medium (adjust the timing for rarer or more well-done burgers).
While the burgers are cooking, place a small saucepan over medium heat with the butter. Add the garlic and cook for about 1 minute. Add the flour and cook for 1 minute more. Whisk in the milk and bring up to a bubble. Season with salt and 1 teaspoon coarsely ground black pepper. Simmer until the sauce has thickened, about 2 minutes. Stir in the grated cheese.
Prepare the balsamic drizzle in small saucepan if not using store-bought.
Place lettuce on the roll bottoms and top with the burgers. Pour Parmigiano-Reggiano sauce over the burgers, set the roasted tomatoes in the sauce, scatter basil over the burgers, and garnish with the balsamic drizzle. Set the roll tops in place.
TIP: Balsamic drizzle is available in some supermarkets, or make your own: Combine 1/2 cup balsamic vinegar and 2 tablespoons brown sugar in a small saucepan and reduce over medium heat until thick and syrupy, a couple of minutes.
This recipe was styled by chef Karen Pickus for Good Morning America.
Recipe courtesy Rachael Ray.
Recipe Summary
Main Ingredients: tomatoes, olive oil, garlic, basil, ground beef
Course: Dinner
More Info: Kid Friendly