Rachael Ray's Double-Baked Crazy-Crisp Oven Fries
Make Crispy Fries Without Your Oven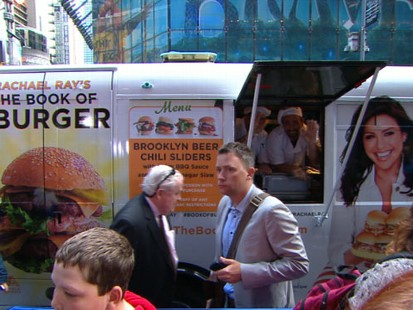 The TV chef talks about her food truck and her new book, "The Book of Burger."
From the kitchen of Rachael Ray
|
These crispy oven fries are seasoned with herbs and spices. They're a fantastic side dish that's perfect for your burger.
Ingredients
6 medium starchy potatoes, such as Idahos
EVOO (extra-virgin olive oil), for drizzling
Kosher salt and pepper
Optional Flavorings (my fave is garlic and rosemary!):
Minced garlic and lots of minced fresh rosemary
Old Bay or Cajun seasoning
Chipotle chile powder
Minced garlic, grated Parmesan cheese, and oregano
Grated pecorino Romano cheese and pepper
Melted butter, parsley, and garlic
Malt vinegar and salt
Adobo seasoning
Cooking Directions
Preheat the oven to 350°F. Set a cooling rack over each of 2 baking sheets.
Peel the potatoes, leaving a patch of the skin at both ends. Cut each potato lengthwise into very thin (1/8- to 1/4-inch) slices—the thinner they are, the crispier the end product will be. Cut those slices into strips that are just as thin.
In a large bowl, drizzle the fries very lightly with EVOO—a couple of turns of the bowl should to do the trick. Season with salt and pepper.
Arrange the fries on the racks in a single layer without crowding either rack.
Roast 30 minutes. Remove the fries and increase the oven temperature to 425°F. Toss the fries in a large bowl with one of the optional flavorings (if using). Return the fries to the oven and bake until very crispy and brown, 15 to 20 minutes.
This recipe was styled by chef Karen Pickus for Good Morning America.
Recipe courtesy Rachael Ray.
Other Recipes That You Might Like