Rachael Ray's Hot Dog Hush Puppies
Deep Fried and Delicious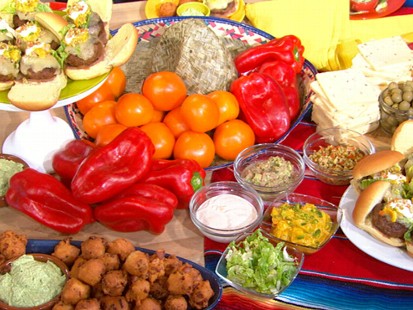 TV chef prepares dishes perfect for a comfortable and tasty Cinco de Mayo.
From the kitchen of Rachael Ray
Use an ice cream scooper to place balls of dough in the fryer. If you can't find chorizo, substitute it with hot dogs, beef or pork.
Ingredients
Frying oil, enough to fill a tabletop fryer or go 2 1/2 inches up the sides of a long or wide pot or pan
1 cup flour
2 tablespoons superfine sugar
2 teaspoons baking powder
Salt and pepper
2 teaspoons, 2/3 palmful, Coleman's dry mustard
2 teaspoons, 2/3 palmful, paprika
1 teaspoon, 1/3 palmful, cayenne pepper or 1 tablespoon hot sauce added with liquids
1 teaspoon, 1/3 palmful, onion powder or granulated onion
1 teaspoon, 1/3 palmful, garlic powder or granulated garlic
3/4 cup cornmeal
1 large egg
1 cup milk
3/4 pound chorizo, finely chopped OR 8 all natural hot dogs, beef or pork, finely chopped
For the ranch dressing:
1 avocado
½ cup sour cream
Juice of 1 lemon
1 clove garlic, grated or finely chopped
2 tablespoons finely chopped chives
2 tablespoons finely chopped fresh dill
2 tablespoons finely chopped flat-leaf parsley
Cooking Directions
Heat oil to between medium and medium-high heat for frying. Preheat oven to 250°F.
Whisk flour, sugar and baking powder in a large bowl and combine with salt, pepper, mustard, paprika, cayenne (if using), and onion and garlic powders. Stir in cornmeal.
In a separate bowl, whisk together egg, milk, hot sauce (if using) and remaining 2 tablespoons oil. Stir the wet into the dry ingredients with a wooden spoon until smooth then stir in the chopped hotdogs.
With a small ice cream scoop or a heaping tablespoon, scoop heaping rounded spoonfuls of batter into the hot oil to deep golden all over, 3-4 minutes. Drain hush puppies on cooling rack set over a baking sheet and keep them warm in the oven while you finish in batches.
Serve with Avocado Ranch Dressing as a dipper.
For the dressing:
In a food processor, puree the avocado flesh, sour cream, lemon juice, garlic, chives, dill, and parsley in a food processor; season with salt and pepper.
Recipe courtesy Rachael Ray.
This recipe was styled by chef Karen Pickus for Good Morning America.
Recipe Summary
Main Ingredients: chives, dill, paprika, mustard, cornmeal, egg
Course: Snack
More Info: Kid Friendly