Rachael Ray's Pub Hash Browns with Horseradish Sauce
A Savory Side Dish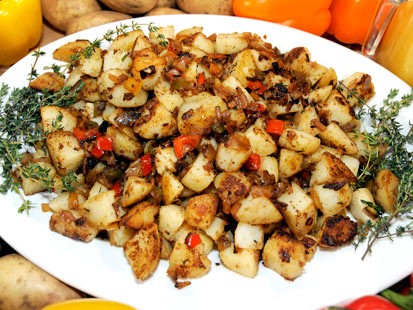 From the kitchen of Rachael Ray
These homemade hash browns are the hit of any barbecue. Serve them with a juicy burger.
Ingredients
EVOO (extra-virgin olive oil), for drizzling
5 slices bacon, cut crosswise into 1-inch pieces
11/2 to 2 pounds starchy potatoes, such as Idahos (2 large or 3 medium potatoes)
Kosher salt and coarsely ground pepper
1 cup sour cream
Splash of heavy cream or half-and-half
2 tablespoons prepared horseradish
3 tablespoons finely chopped chives
Cooking Directions
Heat a drizzle of EVOO in a large skillet over medium-high heat. Scatter the bacon into the pan and cook until browned, 2 to 3 minutes. Transfer the bacon bits to a paper towel–lined plate to drain. Leave the drippings in the pan.
Meanwhile, peel the potatoes and halve them lengthwise. Cut each half lengthwise into 4 wedges. Cut the wedges across into thirds so you end up with 24 rustic wedge cuts per potato.
Scatter the potato wedges in the pan of drippings in a single layer; season lightly with salt and more generously with pepper. Cook until crisp and browned, flipping occasionally, 5 to 6 minutes, Cover the skillet with foil and cook 5 to 6 minutes to steam the potatoes. Uncover and cook, flipping occasionally, until deep, deep golden and very crisp, 3 to 4 minutes. Stir the bacon bits into the potatoes.
While the potatoes are cooking, in a small bowl, thin the sour cream a bit with cream, then stir in the horseradish and chives; season with salt and pepper. Serve the potatoes with the sauce.
This recipe was styled by chef Karen Pickus for Good Morning America.
Recipe courtesy Rachael Ray.
Recipe Summary
Main Ingredients: heavy cream, horseradish
Course: Side Dish, Starch