Rachael Ray's Sock-It-To-Me Moussaka Lasagna
Try This Updated Greek Classic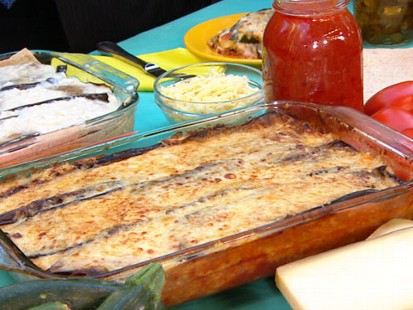 Host of the "Rachael Ray Show" prepares her Autumn Golden Vegetable Lasagna.
From the kitchen of Rachael Ray
|
LAVASH BREAD: Middle Eastern flatbread is just thin and soft enough to add body and heartiness. We got so into it that we tried it with the classic Greek moussaka ingredients: eggplant, tomatoes and lamb.
Ingredients
For the lasagna:
2 eggplants (1 lb. each), cut lengthwise 1/4 inch thick
Salt and pepper
3 sheets lavash bread
3 zucchini, cut lengthwise into 1/4-inch-thick slabs
3 tbsp. EVOO, plus more for brushing
2 lbs. plum tomatoes, quartered and seeded
2 cloves garlic, finely chopped
1 lb. lean ground lamb or beef
1 tsp. herbs de provence
2 1/2 cups jarred marinara sauce
2 1/2 cups shredded gruyere cheese
2 cups Creamy White Sauce
For the Creamy White Sauce:
2 tbsp. butter
½ cup finely chopped shallots
¼ cup flour
2 cups milk warmed
¼ cup grated parmesan cheese
Salt and pepper
Cooking Directions
For the lasagna:
Position racks in the upper and lower thirds of the oven and preheat to 450°. As you layer the eggplant in a colander, sprinkle lightly with salt. Let stand in the sink for 20 minutes, then pat the eggplant dry (do not rinse).
Meanwhile, trim the lavash to fit a 9-by-13-inch baking dish. Toast the lavash in the oven on baking sheets until lightly golden, about 3 minutes. Let cool. Arrange the zucchini on a greased baking sheet, brush lightly with EVOO and season with salt and pepper. Bake until tender, about 15 minutes. Transfer to a plate and let cool.
Arrange the eggplant on the baking sheet; brush lightly with EVOO. Arrange the tomatoes on a second sheet; drizzle with 2 tbsp. EVOO. Roast the vegetables until tender, about 25 minutes. Let cool. Reduce the oven heat to 400°.
Meanwhile, in a large skillet over medium heat, cook the garlic in 1 tbsp. EVOO until golden. Add the lamb and herbs and cook over medium-high heat, crumbling up the meat, until browned, about 5 minutes. Remove from the heat and stir in 1 1/2 cups marinara.
Grease the baking dish and add the remaining 1 cup marinara to the bottom, tilting to coat. Add a layer of toasted lavash. Spoon the lamb mixture on top; sprinkle with 1/2 cup cheese. Add another layer of lavash, 1/2 cup white sauce, the zucchini, 1/2 cup cheese and the tomatoes and their juices. Add a final layer of lavash, spread with 1/2 cup white sauce, then top with the eggplant. Spread with the remaining 1 cup white sauce.
Cover the dish snugly with foil and bake for 40 minutes. Uncover, sprinkle with the remaining 1 1/2 cups cheese and bake until golden and bubbling, about 10 minutes. Let cool for 20 minutes before cutting.
For the Creamy White Sauce:
Melt butter in a medium saucepan over medium heat. Add shallots and cook until tender, about 5 minutes. Stir in flour for 2 minutes. Gradually whisk in warm milk; bring to boil and cook for 2 minutes, whisking constantly. Remove from heat and stir in parmesan and ½ each salt and pepper.
This recipe was styled by chef Karen Pickus for Good Morning America.
Recipe courtesy Everyday With Rachael Ray Magazine
Other Recipes That You Might Like