Rachael Ray's Southwestern Lasagna Torta
Try This Lasagna Torta For Dinner Tonight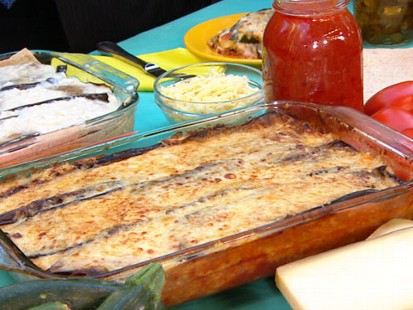 Host of the "Rachael Ray Show" prepares her Autumn Golden Vegetable Lasagna.
From the kitchen of Rachael Ray
|
CORN TORTILLAS: The Italian Dish goes Tex-Mex with layers of this grocery store staple; the Corny, toothsome bread and spicy pork filling make for a soft-taco-like casserole.
Ingredients
2 tbsp vegetable oil
1 onion, finely chopped
1 lb ground pork
1 packet taco seasoning
2 cups prepared salsa
8 corn tortillas (6 inch), cut crosswise in quarters
10 oz frozen peas, thawed
1 ¾ cups shredded sharp cheddar cheese
1 cup refried beans
1/3 cup drained sliced pickled jalapeno chilies
1 cup sour cream
¼ cup finely chopped cilantro
Cooking Directions
In a large skillet, heat the oil over medium-high heat; add the onion and cook, stirring until golden, about 3 minutes. Add the pork and break it up with a wooden spoon; cook, stirring occasionally, until no longer pink, about 5 minutes. Sprinkle in the taco seasoning with ½ cup water and simmer, stirring, until saucy 1 to 2 minutes. Remove from the heat.
Preheat the oven to 400 degrees. Lightly grease a round 9 inch deep dish pie pan. Add ½ cup salsa to the bottom of the pan and till to coat. Arrange a third of the tortilla pieces on top, overlapping slightly to make an even layer. Top with half the meat mixture and half the peas, then sprinkle with 1/3 cup cheese. Add another layer of tortilla pieces, ½ cup salsa and the refried beans, sprinkle with jalapenos and 1/3 cup cheese. Layer with the remaining tortilla pieces, meat mixture and peas; sprinkle with 1/3 cup cheese.
Cover the pan snugly with foil, set on a baking sheet and bake in the middle of the oven for 25 minutes. Uncover the pan, sprinkle the remaining ¾ cup cheese on top and bake until bubbling, about 8 minutes. Tent with foil and let stand for 10 minutes. Uncover and top with the sour cream and cilantro
This recipe was styled by chef Karen Pickus for Good Morning America.
Recipe courtesy Everyday With Rachael Ray Magazine
Other Recipes That You Might Like