Rachael Ray's Zucchini Fritter Cakes
An Excuse to Eat Your Veggies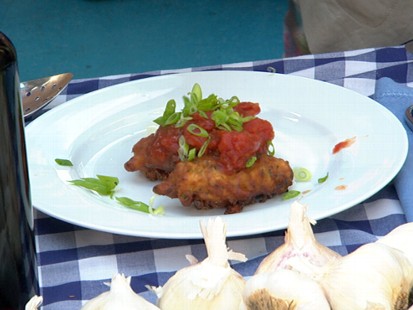 TV chef prepares both classic and healthy meals perfect for the big game.
From the kitchen of Rachael Ray
Try Rachael Ray's crispy zucchini fritter cakes.
Ingredients
2 zucchini, halved lengthwise
salt and pepper
2 15 ounce cans stewed tomatoes or diced tomatoes with green chiles, lightly drained
1 cup flour
1 teaspoon baking powder
1 cup whole milk
1 eggs
1 small onion
2 cloves garlic
1/2 cup grated parmigiano-reggiano (a generous handful)
2 tablespoons each finely chopped parsley and mint
a small handful basil or tarragon leaves shredded
EVOO or vegetable oil for shallow frying
2 scallions, sliced on the angle
Cooking Directions
Preheat the oven to 275 degrees. Place a wire rack on a baking sheet and place in the oven. Scrape out the seeds from the zucchini with a spoon. Shred the zucchini on a box grater. In a strainer or colander, salt the zucchini and let drain for a few minutes. Press out any excess liquid.
In a large saucepan, heat the tomatoes over medium heat for about 5 minutes. Season with salt and pepper. Keep warm.
In a large bowl, add the flour and baking powder. Make a well in the center and add the milk and egg. Whisk together the milk and egg, then incorporate the flour. Stir in the zucchini. Grate the onion into the mixture. Grate in the garlic. Season with salt and pepper. Stir in the cheese and herbs.
In a large skillet, heat a thin layer of oil over medium-high heat. Drop 3-inch cakes of batter into the pan in batches. Cook, flipping once, until golden, 4 to 6 minutes. Keep warm in the oven.
To serve, top the fritters with the tomatoes and scallions.
This recipe was styled by chef Karen Pickus for Good Morning America.
Recipe courtesy Rachael Ray.
Recipe Summary
Main Ingredients: basil, zucchini, tomatoes