Rachel Willen's Big Fluffy Potato Pancakes
Top with Apple Butter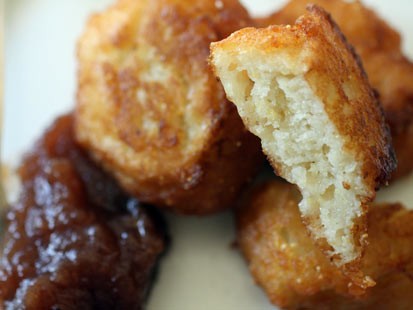 From the kitchen of Rachel Willen
When Chef Rachel Willen used her unusual blender method for making potato pancakes when she competed and won on Food Network's Chopped, she had host Ted Allen, as well as the panel of judges scratching their heads and wondering just what she was doing! It turns out her personal "spin" on Latkes helped her make a winning dish. Chef Rachel shares her secret to these easy and super light potato pancakes, so you can make them at home.
Rachel Willen is the founder of Foodfixkitchen.com
Ingredients
3 large potatoes, ( 1-1/2 lb) peeled and cut into 2 inch cubes
1 medium onion, peeled and cut into a small dice
1 tablespoon olive oil
1 egg, beaten
1 cup all purpose flour
1-1/2 tsp baking powder
1/2 tsp salt, freshly ground pepper
1/2 cup high-heat vegetable oil, for frying, add more if needed
Cooking Directions
In a small skillet, heat 1tablespoon olive oil and saute onions until they are translucent and soft, but not browned, 3-5 minutes. Remove onions to a bowl and cool slightly.
Place half of the potatoes, and half the onion in blender; add enough water to cover and blend until finely grated. Drain mixture through a fine sieve, using a wooden spoon or the bottom of a ladle to press the mixture a bit and push excess liquid through; transfer drained mixture to large bowl. Repeat with remaining potatoes; add to bowl. Mix in egg, flour, baking powder and salt. You want a the consistency of this mixture to be like a thick batter, or like applesauce. If it appears too watery, then you may need to add a little more flour to firm it up.
Prepare a cooling rack, sheet pan or platter by lining it with paper towels for draining the finished latkes. Alternately, you can preheat your oven to 225 degrees and as the latkes are done frying, you can hold them in a warmed oven until they are all finished.
Heat a heavy skillet or cast iron pan until medium hot, then heat enough oil in the pan to cover bottom of pan (a 1/4 inch or so). The key to creating a non-stick surface with a skillet like this is to make sure the pan is hot, and then the oil is also hot before introducing the batter. When the oil is "shimmering" Add 1/4 cup potato mixture per latke, leaving at least 1 inch (2.5 cm) between each; tap lightly on top of each latke with a spatula to flatten a bit.
Fry the latkes, in batches and adding more oil as needed, (and making sure the oil gets hot again each time you add some) until bottoms are golden and edges are crisp, 2 to 3 minutes. Turn over and fry until golden, about 3 minutes longer. Drain on paper towel–lined racks. (Make-ahead: Refrigerate for up to 8 hours; reheat on rimmed baking sheets in 400 degrees F/200 degrees C oven, about 5-8 minutes.)
Recipe courtesy Rachel Willen.
Recipe Summary
Main Ingredients: potatoes, salt, pepper, oil, flour, egg
Course: Starch