Rachel Willen's Blueberries and Sour Cream Muffins
Eat Now, Freeze the Rest for Later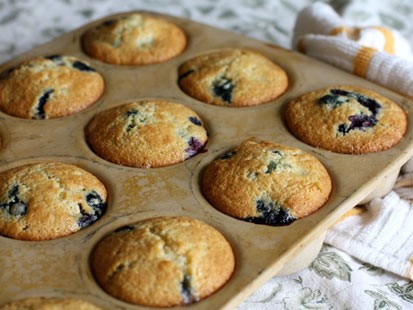 From the kitchen of Rachel Willen
|
Ingredients
12 tablespoons (1 1/2 sticks) unsalted butter
1 cup white granulated sugar
3 large eggs
1 1/2 teaspoons pure vanilla extract
8 ounces sour cream
1/4 cup milk
2 1/2 cups all-purpose, unbleached flour
2 teaspoons baking powder
1/2 teaspoon baking soda
1/2 teaspoon kosher salt
1 pint fresh (or frozen) blueberries, picked through for stems
Cooking Directions
Preheat oven to 350 degrees. Place 16 paper liners in muffin pans. (A pan and a half…or if you have only one muffin pan, you can just make a second batch with the remaining batter) You can make these without liners, in a well-greased or non-stick muffin pan.
In the bowl of an electric mixer fitted with the paddle attachment, (this can be done by hand, of course, with a little muscle and a fork) cream the butter and sugar together until light and fluffy, about 5 minutes. With the mixer on low speed, add the eggs one at a time, then add the vanilla, sour cream, and milk. In a separate bowl, sift together the flour, baking powder, baking soda, and salt. With the mixer still on low speed, (unless you want to dust your whole counter and arms and face with flour), add the flour mixture to the batter, a little at a time, and beat until just mixed. Remove bowl from mixer and gently fold in the whole blueberries with a rubber/silcone spatula running it along the bottom and sides to make sure the batter is thoroughly mixed.
Fill the prepared muffin pans with batter. I use a 1/2 cup measurer to do this, or you can use a large ice cream scoop if you have one, to keep the size of the muffins consistent. Fill the cups to just over the top of the paper liners. Bake for 25 to 30 minutes, until the muffins are lightly browned on the top and a cake tester comes out clean.
Note: If you don't like blueberries…like my daughter…next time you can try this same recipe with strawberries (her favorite fruit), or a smallish dice of apples with some added cinnamon and a touch of mace and clove. My daughter's real fantasy would be chocolate chips, but I'm not going there, not for breakfast! Needless to say, any other berry would be fine, as well. If the fruit is a little sour, you can also let them macerate in a little sugar for 10-15 minutes, before adding them to the batter.
Recipe courtesy Rachel Willen.
Other Recipes That You Might Like