Rachel Willen's Ham Cheese Morning Muffin
Dig Into This Delicious Breakfast Treat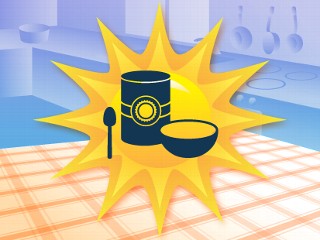 From the kitchen of Rachel Willen
Looking for a healthy breakfast snack? Try this kid-friendly sandwich.
Ingredients
1 ¼ cups unbleached flour
¾ cup fine yellow cornmeal
¼ cup sugar
2 teaspoons baking powder
½ teaspoon baking soda
½ teaspoon salt
1 cup milk
2 large eggs
1/3 cup corn oil
1 cup ham, ¼ inch dice
½ cup shredded cheddar cheese
¼ cup finely chopped chives or scallions
Cooking Directions
Preheat the oven to 375 degrees. Grease a 12-cup muffin pan with cooking spray, oil, butter or line the wells with paper muffin liners.
In a large bowl, whisk together the dry ingredients, which are: flour, cornmeal, sugar, baking powder, baking soda, and salt.
In a medium bowl, whisk together the wet ingredients, which are: eggs, milk, and oil.
Combine the dry and wet ingredients in the larger bowl. One they are completely mixed together to form a smooth batter, fold in the diced ham and the cheese.
Spoon or pour the batter into the muffin cups, filling each one only three quarters of the way to the top. Place the muffin pan in the warmed up oven and bake them for 20 minutes or until the tops are lightly golden brown.
Remove muffins from oven and let them cool in the pan, on a cooling rack, for 3-5 minutes, then turn over the pan and pop the muffins out gently and let them cool on the rack completely.
These are great served warm, with a little butter or jam, or plain. The muffins can be frozen in a sealed freezer bag for up to three months and reheated in the microwave (about 30 seconds) in the toaster oven or sliced in half and toasted in a buttered skillet.
Recipe courtesy Rachel Willen from foodfixme.com
Recipe Summary
Main Ingredients: cheese, cornmeal, eggs, ham
Course: Breakfast