Rachel Willen's Spanakopita In Casserole
Flaky Pastry Adds Crunch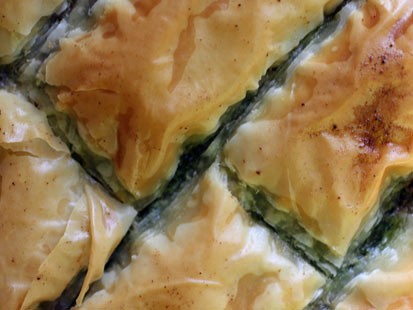 From the kitchen of Rachel Willen
|
Rachel Willen includes this spanakopita in her Chanukkah menu. "The Maccabees were living in ancient Greece! I've taken this popular Greek spinach and feta pie and made it less labor-intensive by using a casserole preparation." It's a great meal on it's own, and makes a crowd-pleasing addition to a pot-luck meal.
Rachel Willen is the founder of Food-fix.com
Ingredients
2 small onions, finely chopped by hand or in a small processor
20 pitted calamata olives, finely chopped by hand or in a small processor
2 Tablespoons olive oil
2 teaspoons salt
1 ½ teaspoon pepper
3 packages frozen spinach (10oz), de-thawed, drained and squeezed of all liquid
6 large eggs
2 teaspoons nutmeg, grated
½ cup Parmesan, grated
3 tablespoons Panko bread crumbs
8 ounces feta, broken into 1/4? cubes?(farmer's cheese or drained cottage cheese, low-cost substitute)
½ cup pine nuts (walnuts are a lower cost substitute)
½ cup melted butter, or as much as needed to brush phylo.?(You will need a pastry brush).
1 pkg of phyllo dough, defrosted, unrolled and held on a sheet pan under a damp towel
Cooking Directions
1. Preheat oven to 375F. Heat a large sauté pan to medium and add olive oil and onions. Sauté for about 10-15 minutes until soft and beginning to brown. Add chopped olives and sauté for another 1-2 minutes. Let cool slightly.
2. In a large bowl add spinach (you can also use blanched, chopped kale,or chard) Parmesan, nutmeg, bread crumbs, feta, pine nuts and onions and combine gently. Add salt and pepper to taste (olives and feta are salty, so do taste before adding salt.) Once seasoning is adjusted to taste, add eggs. Mix gently until fully combined.
3. To work with the Phylo: The sheets will be larger than your pan, so you must trim them to fit. Separate 12-15 sheets of the phylo from the pile and place on surface you can cut on. Gently place your inverted 9x13 pan over the pile of sheets (over to one corner, so you only have to cut 3 sides) and cut them to the size of the pan. Keep sheets you are not immediately working with covered with a damp cloth at all times or they will quickly dry out and be brittle.
4. Butter your 9 by 13 inch baking pan, and spread 1 sheet of filo, using a pastry brush to coat evently with butter, (top side only) as you go. Repeat this with a total of 6 sheets. Spoon the spinach filling over this layer of 6 phylo, then cover with 6 more sheets, buttering each sheet as you go again. Score the top 3 sheets with a sharp knife to outline how you will want to portion it when it is done (I like doing the scoring on a diagonal, starting in one corner, then spacing my cuts 2-3 inches apart, down the pan, then doing the same on the opposite end, criss-crossing back, so you end up with "diamond" pieces). Bake 40 to 45 minutes, or until top is golden, let stand 15 minutes, then cut into squares and serve warm.
5. Bake for one hour or until golden brown. Allow to cool before serving. Serve slightly warm or at room temperature.
Other Recipes That You Might Like