Rachel Willen's Vinegar Braised Greens With Bacon and Fried Egg
Great for Breakfast or Brunch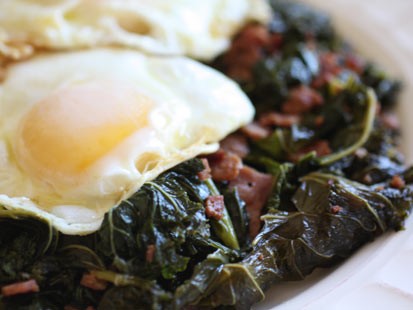 From the kitchen of Rachel Willen
|
Ingredients
2 tablespoons olive oil
1 tablespoon butter
3-4 cups rough chopped Kale, (or other green: chard, collards, etc.), cleaned and wet
2 cup mixed field greens or spring mix
2-3 tablespoons sherry vinegar
4 slices turkey bacon, pork bacon or 2/3 cup diced pancetta – cut to 1/4 inch dice
4 eggs
Salt and freshly ground pepper to taste
Cooking Directions
Warm a heavy skillet over medium-high heat. Heat one tablespoon olive oil and then add diced bacon to the pan, cooking it until it's crispy. About 4-5 minutes. Add the sherry vinegar to the pan, using a wooden spoon or spatula to scrape up the "glaze" and brown bits that are stuck to the bottom of the pan (deglazing).
Add the greens to the pan, season with salt and pepper. Turn the greens often to get them coated with the liquid in the pan. Cook until wilted and desired tenderness is achieved. About 5 minutes. Remove from heat, but leave in pan to keep warm.
Heat another skillet for the eggs (if you have one…if not use the one you cooked the greens in.) If using a non-stick skillet, add a 1/2 teaspoon of butter, oil or spray with cooking spray to wet the pan a bit. Crack eggs into the pan and fry then on one side only, cooking it to the point that it is done, but the yolk will still be runny. If using a regular pan without non-stick coating, heat pan first, then add 1 tablespoon oil, one tablespoon butter and heat the fat thoroughly before adding cracked raw eggs. Cook as directed above. You can use the fat in the pan to baste over the egg yolk, using a spoon, and help heat it through without cooking too much. Remember, you want that yoke to be warm, but still runny.
Split the greens between two plates, and top off with fried eggs, two to a serving. Season eggs with salt and freshly ground pepper.
Recipe courtesy Rachel Willen.
Other Recipes That You Might Like