Tasting Table's Rainbow Carrots with Easter Egg Radishes
Easter Eats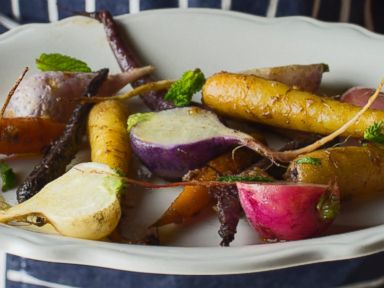 From the kitchen of Tasting Table
|
Easter classics like honey-baked ham and deviled eggs have made appearances at your holiday table for the last how many years? Spice things up this time with an updated recipe that evokes all things spring: TastingTable.com's take on Rainbow Carrots with Easter Egg Radishes.
Ingredients
1 pound rainbow carrots, whole
3 tablespoons extra-virgin olive oil
9 Easter egg radishes, halved
1 teaspoon salt
1 fresh bay leaf
5 anchovy filets
2 cloves of garlic, peeled and smashed
1 teaspoon finely chopped marjoram
2 tablespoons butter
1/4 cup torn and loosely packed mint leaves
Cooking Directions
Preheat oven to 350 degrees F. In a Dutch oven over medium heat, heat 2 tablespoons of the olive oil. Add the carrots and cook until the carrots are halfway cooked through, about 10 minutes.
Place the radishes in a medium bowl with the remaining 1 tablespoon of olive oil and 1/4 teaspoon of the salt. Transfer the radishes to a lined sheet tray and roast in the oven for 15 minutes.
Meanwhile, in a mortar and pestle smash the anchovy, garlic and marjoram into a paste. Set aside.
Add the bay leaf and the remaining 3/4 teaspoon of the salt to the carrots and cook for an additional 10 minutes. Add the butter and increase the heat to medium-high. Once the butter starts to foam, add the anchovy mixture and with a large spoon, baste the carrots with the butter and anchovy mixture for 2 minutes.
Divide the carrots and radishes among 4 plates. Garnish each plate with the torn mint and serve.
Recipe courtesy TastingTable.com.
Other Recipes That You Might Like