House of Yumm's Ramen Grilled Cheese
Asian American Mash-Up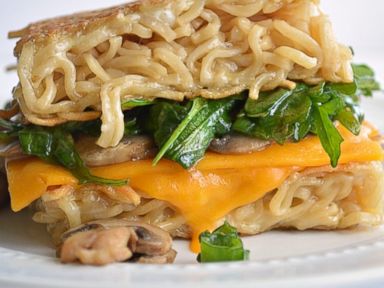 From the kitchen of House of Yumm
You may have relegated ramen to your college days, but this lowly noodle has been making a big-time comeback in the form of a bun. Try it for yourself with House of Yumm's recipe below for ramen grilled cheese.
Ingredients
Ramen
1 package ramen (any flavor)
1 large egg (beaten)
Mushrooms
4 whole white mushrooms chopped
1 teaspoon butter
2 tablespoons soy sauce
Toppings
2 slices cheddar cheese
Arugula
1 handful of arugula
1 teaspoon sesame oil
pinch of garlic powder
pinch of garlic salt
Cooking Directions
Ramen: Prepare the ramen according to the package. Strain and mix noodles with the beaten egg until noodles are thoroughly coated. Divide noodles in half placing each half into an individual ramekin. Cover each ramekin with cling wrap and press noodles down, ensuring they are packed tightly into the ramekin. Place the covered ramekins into the refrigerator for 15 minutes to cool, this will ensure that they hold their shape. Once cooled, hold the ramekins upside down over a frying pan coated with vegetable oil, the noodles will loosen and fall, then cook until golden brown on each side, approximately two minutes on each side.
Mushrooms: Saute the mushrooms in a frying pan with the butter and the soy sauce until mushrooms are cooked.
Arugula: Toss the arugula with the sesame oil and spices until coated.
Recipe Summary
Main Ingredients: package ramen, egg, mushrooms, cheddar cheese, arugula
Course: Lunch