Rao's Grilled Steak Pizzaiola
Grilled Steak Gets a Flavor Boost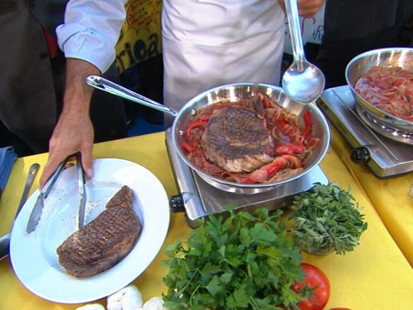 The New York restaurateur is releasing a new cookbook, "Rao's on the Grill."
From the kitchen of Frank Pellegrino
A signature item in our restaurants in and in our other cookbooks, creating it for the grill was the next logical step. The char and smokiness imparted by the direct flame add more fantastic and deep flavor, especially when the steak is married with the rich tomato sauce. I have called for large steaks here, with the meat cut off the bone, a method that I think makes for a better dining experience.
Ingredients
¼ cup olive oil
1 red bell pepper, cored, seeded, and cut lengthwise into ½-inch strips
1 small white onion, thinly sliced
1 cup sliced white mushrooms
1 teaspoon minced garlic
½ cup dry white wine
1 (14.5) can imported Italian plum tomatoes, preferably San Marzano, drained and crushed by hand (1 cup)
1 pinch of dried oregano
Salt and freshly ground pepper
2 (1-pound) rib-eye steaks on the bone, about 1-inch thick
1 teaspoon salt
½ teaspoon freshly ground black pepper
Cooking Directions
Preheat an outdoor grill for direct cooking over high heat (550ºF).
Season the steaks with the salt and pepper. Let stand at room temperature while heating the grill.
To make the sauce: Place a flameproof large skillet on the cooking heat. Add the oil and let it heat until shimmering. Add the bell pepper, onion, mushrooms, and garlic and cook, stirring occasionally, until the vegetables are tender, about 6 minutes. Add the wine and bring to a boil. Stir in the tomatoes and oregano, and season with salt and pepper. Return to a boil. Reduce the heat to low and simmer until slightly thickened, about 5 minutes, adding a bit more wine if the sauce gets too thick. Remove from the heat. (The sauce can be made up to 2 hours ahead.)
From Rao's On the Grill by Frank Pellegrino, Jr.
This recipe was styled by chef Karen Pickus for Good Morning America.
Recipe Summary
Main Ingredients: olive oil, red bell pepper, san marzano, oregano
Course: Dinner
More Info: Kid Friendly