Martha Stewart's (RED) Chiffon Cake
Good Cause Grub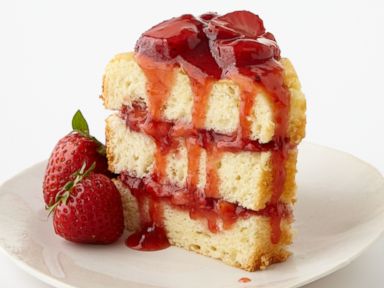 From the kitchen of Martha Stewart
This June marks the month during which AIDS was discovered 33 years ago, so (RED) is launching a two-week food campaign to raise money to fight the disease. From June 1 to June 10, the organization, founded by Bono and Bobby Shriver in 2006, is partnering with chefs across the country to raise money for the organization. Every time people order a (RED) item on the menu of a participating restaurant, a small donation from that restaurant will be made to the Global Fund to Fight AIDS.
Below is chef Martha Stewart's participating recipe for (RED) Chiffon Cake.
Ingredients
FOR THE CAKE
2 1/4 cups cake flour (not self-rising)
1 1/2 cups granulated sugar, divided
2 1/4 teaspoons baking powder
3/4 teaspoon salt
1/2 cup safflower oil
7 large egg yolks plus 9 large egg whites
3/4 cup whole milk
1/2 teaspoon cream of tartar
1 whole vanilla bean, split and scraped, or 2 teaspoons pure vanilla extract
FOR THE BERRIES AND CREAM
2 pounds strawberries, hulled and halved or quartered (about 5 cups), plus more for serving
1/2 cup granulated sugar
1 tablespoon fresh lemon juice
Pinch of salt
2 cups cold heavy cream
1/4 cup confectioners' sugar, plus more for sprinkling
Cooking Directions
Make the cake: Preheat oven to 325 degrees. Whisk together flour, 3/4 cup granulated sugar, the baking powder, and salt. Whisk together oil, egg yolks, and milk in a large bowl. Whisk flour mixture into egg-yolk mixture.
Beat egg whites with a mixer on high speed until frothy. Add cream of tartar and vanilla seeds or extract, and beat until soft peaks form. Gradually add remaining 3/4 cup granulated sugar, beating until stiff, glossy peaks form, about 5 minutes. Whisk one-third of the egg-white mixture into batter. Gently but thoroughly fold in remaining egg-white mixture with a rubber spatula.
Transfer batter to tube pan. Bake until top of cake springs back when touched, 52 to 55 minutes. Let cool upside down (over a bottle or on tube-pan feet) 1 hour.
Make the berries and cream: While cake is baking and cooling, combine strawberries, granulated sugar, lemon juice, and salt, and let sit, stirring occasionally, 1 hour. Just before assembling, beat cream and confectioners' sugar until medium peaks form.
Slide a paring knife around edges of tube and side of pan; release cake. Cut cake horizontally into 3 layers with a serrated knife. Transfer bottom layer to a cake plate or platter. Spread with half the berries, and drizzle with juices. Spread half the whipped cream over berries, then top with middle cake layer. Spread with remaining berries and whipped cream. Top with remaining cake layer. Refrigerate cake 1 hour. Sprinkle with confectioners' sugar, and serve with berries.
Note: Bake this cake in a tube pan that is 9 1/2 inches in diameter by 4 1/2 inches deep.
Recipe Summary
Main Ingredients: cake flour, sugar, safflower oil, whole milk, strawberries, heavy cream
Course: Dessert