Emeril Lagasse's (RED) Revival
Good Cause Grub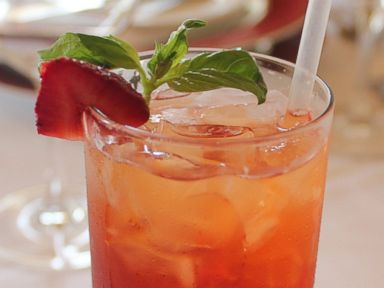 From the kitchen of Emeril Lagasse
|
This June marks the month during which AIDS was discovered 33 years ago, so (RED) is launching a two-week food campaign to raise money to fight the disease. From June 1 to June 10, the organization, founded by Bono and Bobby Shriver in 2006, is partnering with chefs across the country to raise money for the organization. Every time people order a (RED) item on the menu of a participating restaurant, a small donation from that restaurant will be made to the Global Fund to Fight AIDS.
Below is chef Emeril Lagasse's participating recipe for (RED) Revival.
Ingredients
1 whole strawberry
2 basil leaves
1/4 ounce of small batch grenadine
1 1/2 ounces of Pimm's
1 ounce of house made sour mix
1 1/2 ounces of ginger ale
Cooking Directions
Muddle the strawberry and basil leaves with grenadine in a collins glass.
Add ice to fill the glass.
Pour in the Pimm's and sour mix.
Top with ginger ale.
Other Recipes That You Might Like