Reed Alexander's Oatmeal Pancakes
Recipe Courtesy Reed Alexander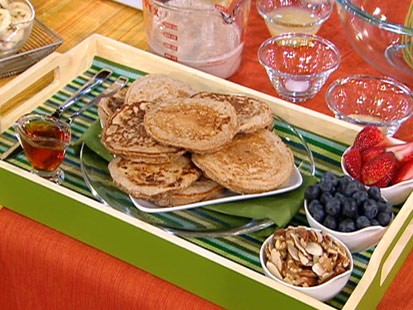 From the kitchen of Reed Alexander
Ingredients
1/2 cup uncooked oats
1 cup whole wheat flour
2 teaspoons baking powder
3 teaspoons light brown sugar
1/4 teaspoon of salt
2 egg whites
1 cup nonfat milk
Butter flavored cooking spray
1/2 cup fat-free sugar-free syrup
1 ripe banana
Cooking Directions
Blend up the oats in a blender until they are in flour state. Pour them into a bowl.
Add in brown sugar, salt, baking powder and whole wheat flour.
In a separate bowl, beat up the egg whites and add in nonfat milk.
Combine this with the mixture in the first bowl. Let this batter settle together for approximately 5 minutes.
Slice up the banana in thin slices.
Spray your pan with cooking spray and place on the stove burner at a medium temperature.
Drop in batter using about 1/4 cup for each pancake. Add in a few slices of banana to each one.
Flip your cakes when the middle of each begins to bubble.
Dip each bite into a little bit of fat-free sugar-free syrup.
Recipe Summary
Main Ingredients: uncooked oats, whole wheat flour, baking powder, light brown sugar, egg whites, milk, banana
Course: Breakfast