Reese Witherspoon's Grandma Draper's Sour Cream Cake With Praline Frosting
Try This Homemade Treat!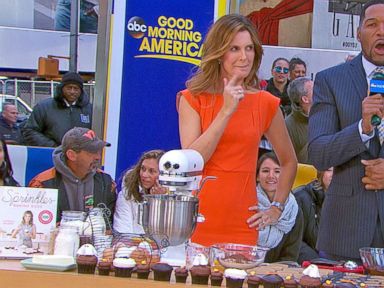 In her first cookbook, the pastry chef shares 100 of her favorite recipes - including one from the kitchen of "GMA" co-anchor Michael Strahan!
From the kitchen of The Sprinkles Baking Book
Candace Nelson founded Sprinkles, America's first cupcakes-only bakery, in 2005. Now 11 years later, Nelson has opened up her recipe vault to share 100 desserts in her first cookbook. "The Sprinkles Baking Book" contains Nelson's favorte dessert recipes as well as favorites from celebrities including Michael Strahan and Reese Witherspoon. Try this decadent treat in your kitchen!
Ingredients
FOR THE SOUR CREAM CAKE:
3/4 cup (1 1/2 sticks) unsalted butter, slightly softened, plus more for greasing
3 cups cake flour, plus more for flouring the pans
1/2 teaspoon baking soda
1/2 teaspoon baking powder
1/2 teaspoon fine sea salt
1 1/4 cups full-fat sour cream
4 teaspoons pure vanilla extract
2 cups sugar
6 large eggs
FOR THE PRALINE FROSTING:
1/2 cup (1 stick) unsalted butter, slightly softened
1/2 cup lightly packed dark brown sugar
1/2 cup heavy cream, plus more if necessary
3 3/4 cups confectioners' sugar, sifted
1 teaspoon pure vanilla extract
Cooking Directions
The world knows Reese Witherspoon as a preternaturally talented Academy Award–winning actress; I am lucky to also know her as a friend, loving mama, and proper Southern girl through and through. You need look no further than her company, Draper James, where the pride she takes in her Nashville upbringing is on display in every monogrammed pillow and magnolia-printed top. Draper James was named after her grandparents, Dorothea Draper and William James, whom Reese credits with teaching her everything she knows about gracious Southern living.
Dorothea would spoil Reese with this stunningly delicious cake. Rich, decadent, and piled two tiers high, it's perfect for a party. The cooked praline icing, sweet and almost sculptable, is ideal for etching feminine swooshes and swirls. As Reese would say, "Y'all, this cake is so good!"
MAKE THE SOUR CREAM CAKE:
Preheat the oven to 325 degrees F. Butter two 9-inch round cake pans, line the bottoms with parchment paper cut to fit, and butter the parchment. Flour the pans, coating the bottom and sides of each pan, then tap out the excess flour.
In a medium bowl, sift together the flour, baking soda, baking powder, and salt. In a small bowl, stir together the sour cream and vanilla.
In the bowl of a stand mixer fitted with the paddle attachment, beat the butter and sugar on medium-high speed until light and smooth, 2 to 3 minutes. Reduce the speed to low, then slowly add the eggs and beat until blended. Stir in one-third of the flour mixture until just blended, followed by half the sour cream mixture, then half the remaining flour mixture, the remaining sour cream mixture, and finally the remaining flour mixture until the batter is smooth and blended and no streaks of flour remain, 2 minutes total.
Transfer the batter to the prepared pans and bake until the cake springs back when gently pressed and a toothpick inserted into the center comes out clean, about 30 minutes. Cool the cakes completely on a wire rack and then invert them onto cake rounds or another flat surface, such as a platter or revolving cake stand.
MAKE THE PRALINE FROSTING:
In a saucepan, melt the butter over medium heat. Stir in the brown sugar and cream, bring to a boil, then immediately pour into the bowl of a stand mixer fitted with the paddle attachment. Add the confectioners' sugar and vanilla, and beat over medium speed until it reaches a spreadable consistency, adding more cream 1 tablespoon at a time if the frosting gets too thick.
Working quickly (the frosting hardens fast!), dollop ¾ cup of the frosting on one cake layer, then stack another layer on top. Still working quickly, frost the top and sides of the cake. Use a knife or offset spatula to create pretty peaks and waves.
Excerpted from the book THE SPRINKLES BAKING BOOK by Candace Nelson. Copyright 2016 by Candace Nelson. Reprinted with permission of Grand Central Life & Style. All rights reserved.
Recipe styled by Karen Pickus, chef/food stylist, "Good Morning America."
Recipe Summary
Main Ingredients: butter, cake flour, sour cream, dark brown sugar, heavy cream, eggs, sugar
Course: Dessert