Kayla Itsines' Rice Crackers With Beetroot Dip Recipe
A Healthy Snack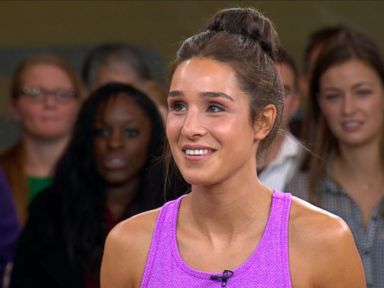 The Instagram fitness queen talks about her upcoming book "The Bikini Body" and shares her exercise and diet tips on "GMA."
From the kitchen of Kayla Itsines
Kayla Itsines became a fitness sensation with 6 million Instagram followers for her high-energy workout routines and videos. Now she's sharing her meal plans for health eating in a new book, "The Bikini Body 28-Day Healthy Eating & Lifestyle Guide." Try her recipe for beetroot dip and rice crackers as seen on "Good Morning America."
Ingredients
1 small beetroot, scrubbed and grated
2 3/4 oz. tinned cannellini beans, drained and rinsed
1/4 garlic clove, crushed pinch of ground coriander
pinch of ground cumin pinch of sweet paprika
lemon juice, to taste
sea salt and ground black pepper, to taste
12 plain rice crackers
Cooking Directions
Place the beetroot, cannellini beans, garlic, coriander, cumin, paprika, and 2 teaspoons of water in a food processor and process until smooth. Season with lemon juice, salt, and pepper, if desired.
Place the beetroot dip in a small bowl and serve with the rice crackers.
This recipe is reprinted with permission from "The Bikini Body 28-Day Healthy Eating & Lifestyle Guide."
Food styling by Karen Pickus for "Good Morning America."
Recipe Summary
Main Ingredients: beetroot, cannellini beans, garlic, lemon
Course: Snack