Emeril Lagasse's Rich Chocolate Pecan Pie
Put This Sweet Treat on Your Holiday Table!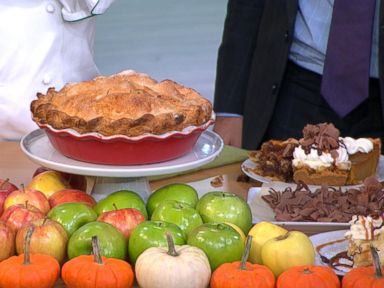 Celebrity chef Emeril Lagasse shares some of his delicious pie recipes on "GMA."
From the kitchen of Emeril Lagasse
"GMA" is counting down to Thanksgiving all month long. We're inviting the nation's top chefs to share their recipes, tips and tricks for making every part of your holiday dinner. Here is Emeril Lagasse's recipe for his rich chocolate pecan pie.
Ingredients
Ingredients
1 1/2 cups pecans
1 cup semisweet chocolate chips
1 unbaked 9-inch pie shell
4 eggs, beaten
1/2 cup sugar
1/2 cup light brown sugar
1/2 cup corn syrup
1/2 teaspoon vanilla
Pinch salt
Caramel sauce, for garnish
Confectioners' sugar, for garnish
Whipped cream or vanilla ice cream for serving, optional
Caramel Sauce
3/4 cup sugar
2 tablespoons water
1/2 teaspoon freshly squeezed lemon juice
1/2 cup heavy cream
Cooking Directions
Preheat the oven to 375 degrees F.
Spread the pecan pieces and the chocolate chips evenly on the bottom of the pie shell.
In a mixing bowl, whisk the remaining ingredients together. Pour the filling over the pecans. Bake until the filling sets, 50 to 60 minutes.
Remove from the oven and cool at least 1 hour before slicing. Cut into individual servings and serve with a drizzle of Caramel Sauce and sprinkle with confectioners' sugar.
Makes one 9-inch pie
For the Caramel Sauce
Combine the sugar, water, and lemon juice in a medium heavy saucepan and cook over medium-high heat, stirring, until the sugar dissolves. Allow it to come to a boil, and continue to cook undisturbed, until the mixture becomes a deep amber color, 2 to 3 minutes, watching closely so it doesn't burn. Remove from the heat and carefully add the cream (it will bubble up), whisking to combine. Set aside. It will thicken as it cools.
Makes about one-half cup.
Recipe courtesy Emeril Lagasse, copyright MSLO, Inc., all rights reserved. Used with permission.
Recipe styled by Karen Pickus, chef/food stylist, "Good Morning America."
Recipe Summary
Main Ingredients: chocolate, pecans, pie shell
Course: Dessert