Richard Blais' 3 Bean Salad
Easy to Enjoy, Easy to Prepare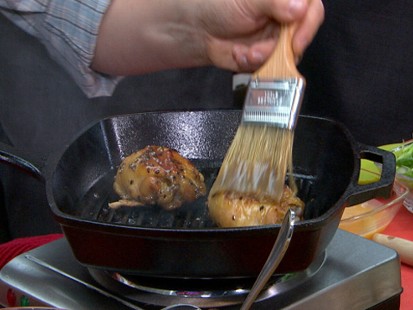 Executive chef, owner of The Spence prepares a meal fit to kick off summer.
From the kitchen of Richard Blais
|
This is an easy mix-everything-together salad we love.
Ingredients
Small bunch Scallions cut razor thin
3 cloves Fresh finely minced garlic
1 Tbls Cumin
1/4 c Cilantro
1/2 c Olive oil
1/2 tsp Cayenne
1/2 lime juiced
4 roma tomatoes (small dice)
Salt to taste
Pepper to taste
16 oz ready to eat chick peas
16 oz ready to eat Hericot vert
16 oz ready to eat Kidney Beans
Cooking Directions
Mix all ingredients together and refrigerate overnight for marination. Serve cold.
Recipe courtesy Richard Blais.
This recipe was styled by chef Karen Pickus for Good Morning America.
Other Recipes That You Might Like