Richard Blais' Lemon Curd Pepper Chicken
A Sweet and Spicy Chicken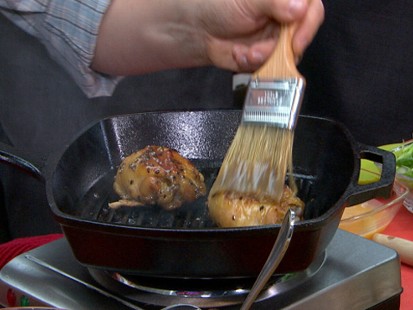 Executive chef, owner of The Spence prepares a meal fit to kick off summer.
From the kitchen of Richard Blais
This chicken has spicy flavor from the pepper and sweetness from the lemon curd.
Ingredients
2 chicken thights
TT salt
1 Tbs cracked black pepper
2 Tbs olive oil
1/4 c lemon curd
Cooking Directions
Season chicken thighs with salt and cracked black pepper. Drizzle olive oil on chicken and wrap tightly in a few layers of aluminum foil. Placing in cooking pan and bake for 4 hours at 275 degrees.
When done, combine juices in the foil with lemon curd to make glaze. Take chicken out of foil and finish on the grill. Brush glaze onto chicken while finishing on grill.
Recipe courtesy Richard Blais.
This recipe was styled by chef Karen Pickus for Good Morning America.
Recipe Summary
Main Ingredients: chicken thighs, salt, pepper, lemon curd
Course: Dinner
More Info: Kid Friendly