Richard Blais' Macaroni and Cheese With Greek Yogurt
Use Greek Yogurt to Lighten Up This Kid-Friendly Dish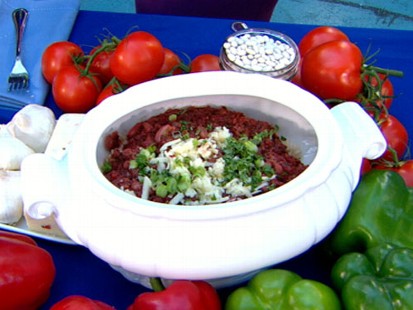 The "Top Chef All-Stars" winner prepares kid-friendly dishes with a secret healthy ingredient.
From the kitchen of Richard Blais
|
"Top Chef" star Richard Blais upgrades your average back-to-school dinner recipe. Blais takes the classic dish kids love and incorporates Greek yogurt, making it a more health-conscious choice.
Ingredients
2 cups of elbow macaroni, cooked
1/2 cup of melted cheese product (Velveeta)
1/4 cup Greek yogurt, plain, unsweetened
1/4 cup Cheddar cheese, shredded
2 tablespoons Parmesan cheese, grated
Salt & white pepper to taste
Cooking Directions
Cook the pasta according to the directions on the box.
Mix the melted cheese and yogurt with the macaroni.
Fold in the shredded and grated cheese, leaving some to top the cooking vessel.
Season and place in a ramekin of baking dish. Top with the remaining cheese and bake/broil until crusty and golden on top.
NOTE: A sprinkle of crushed bread crumbs on top is a great simple addition for texture.
This recipe was styled by chef Karen Pickus for Good Morning America.
Other Recipes That You Might Like