Richard Blais' Meaty Chili Without Meat
This Kid-Friendly Vegetarian Chili Is Made With Mushrooms, Chick Peas, Beet Juice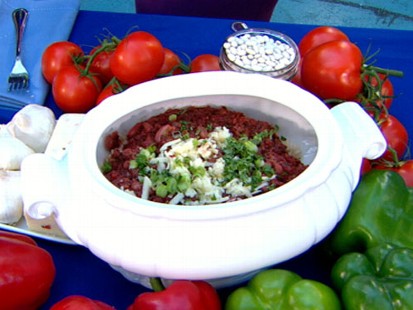 The "Top Chef All-Stars" winner prepares kid-friendly dishes with a secret healthy ingredient.
From the kitchen of Richard Blais
|
"Top Chef" Richard Blais upgrades your average back-to-school dinner recipe. Blais has created this kid-friendly, vegetarian chili dish, using healthier ingredients like mushrooms, chick peas and beet juice while keeping the meaty taste kids love.
Ingredients
2 tablespoons Red pepper, small chopped
2 tablespoons Green pepper, small chopped
2 tablespoons White onion, small chopped
1 teaspoon Umami paste
2 teaspoons Garlic, minced
2 tablespoons Chick peas, ground
3 tablespoons Mushrooms, ground
3 tablespoons White beans, canned
1 can of Rotel's Chopped Tomato & Green Chili, canned
1/4 cup Beet juice
1/4 cup vegetable stock
1/4 cup Brown rice, cooked
3 tablespoons Jack cheese, shredded
1 tablespoon Chili powder
1 teaspoon Chipotle powder
1/2 teaspoon Cumin, ground
1/2 teaspoon Coriander, ground
2 teaspoons Cilantro, chopped
3 teaspoons Scallion, sliced
Olive oil as needed
Salt & black pepper to taste
Cooking Directions
In a soup pot with a splash of olive oil, simmer the peppers, onion, garlic, mushrooms, chick peas and spices.
As they release their aromas and the vegetables cook for a few minutes, add the umami paste
and stir in for a minute.
Add the Rotel tomato, the beet juice, stock and beans and simmer for 20-30 minutes.
Add the rice when finished.
Serve with a healthy spoon of the cheese, cilantro and scallion and have your favorite hot sauce nearby.
NOTE: The garnish can be trimmed and either the beet juice or vegetable stock omitted. I like the idea of
beet juice in here as the healthy surprise. The Umami paste can be substituted with Worstershire sauce.
This recipe was styled by chef Karen Pickus for Good Morning America.
Other Recipes That You Might Like