Richard Blais' Skirt Steak with Salsa Verde
Fire Up the Grill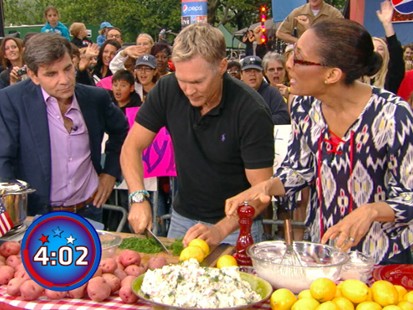 "GMA" kicks off Memorial Day with a five-ingredient, five-minute food battle.
From the kitchen of Richard Blais
|
A traditional steak gets dressed up with a flavorful salsa.
Ingredients
Skirt steak
Good olive oil 1/4 cup
Parsley 1/2 bunch
Capers 3 tablespoons
Garlic, minced 1 tablespoon
Anchovy, 1 each fillet
Red Thai chili 1 each sliced thin
Lemon juice a splash
Salt & pepper to taste
Cooking Directions
Season the steak with salt / pepper & olive oil.
Cook the steak on a hot grill
While the steak cooks, in a mortar & pestle, crush the remaining ingredients.
Remove the steak and spoon the dressing on top.
This recipe was styled by chef Karen Pickus for Good Morning America.
Recipes courtesy of Carla Hall.
Other Recipes That You Might Like