Richard Sandoval's Ceviche Classico
Cool Off With This Ceviche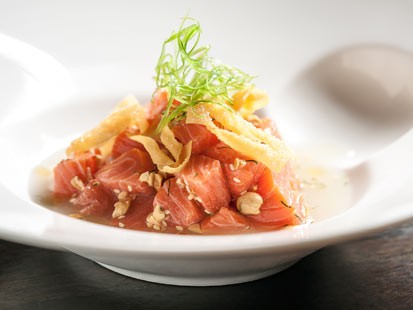 From the kitchen of Richard Sandoval
Try this light, summery dish from chef Richard Sandoval. Sandoval owns more than 30 restaurants around the world. He has been nominated for a James Beard award for "Outstanding Restaurateur" and his restaurants have been recognized as some of the best in the country.
Ingredients
1.5 lbs thinly sliced sashimi grade corvina; or other firm white fish
1 c thinly sliced red onion
1 fresno chile; finely minced
1 tbsp chopped cilantro
½ c diced glazed sweet potato - recipe below
leche de tigre classico
For the glazed sweet potato:
2 c orange juice
1 tbsp lime juice
½ c sugar
1 cinnamon stick
2 pieces star anise
2 large sweet potatoes; peeled and cut into discs
For the leche de tigre classico:
1 c fresh lime juice
1 small celery stalk; chopped
1 tbsp cilantro
2 cloves garlic
4 oz fish scraps *
2 c fish broth *
* if you do not have fish scraps and fish broth, you can substitute clam juice
Cooking Directions
In a large chilled mixing bowl, toss the fish with the leche de tigre (this should be done over ice to keep the fish very cold). Place the marinated fish into 4 very cold serving plates.
Toss the onion slices, chiles and cilantro into the same mixing bowl with the leche de tigre and top each bowl of fish with equal amounts of the onion mixture. Pour the remaining leche de tigre equally over the ceviches and garnish with sweet potato dice. Serve immediately.
For the glazed sweet potatoes:
Place all ingredients into a small saucepan and bring to a simmer. When sweet potatoes are almost tender, move pan from heat and let sweet potatoes cool in the liquid. Once cooled; remove from liquid and dice. Reserve at room temperature before serving.
For the leche de tigre classico:
Combine all ingredients into a blender and blend until smooth. Let mixture sit to macerate flavors for 15-20 minutes. After sitting, strain through a fine strainer and keep very cold.
Recipe courtesy Richard Sandoval.
Recipe Summary
Main Ingredients: sashimi, lime, garlic, cilantro, broth
Course: Dinner