Rick Bayless' Coconut Lime Ceviche
Serve in Small Glasses With Mint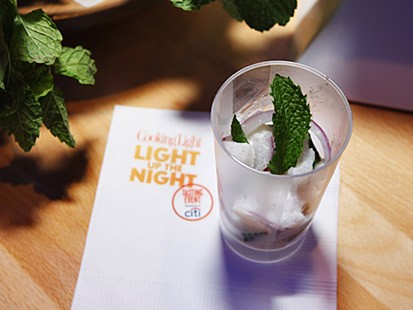 From the kitchen of Rick Bayless
"The small amount of coconut milk in this recipe is a high-impact addition—very little added, with tons of richness and a satisfying mouth feel gained. Coconut milk is considered high in saturated fat, but it also raises the levels of good cholesterol in your blood, and provides more than the daily requirement of manganese, potassium and other vitamins necessary for a balanced diet. Countries with a high consumption of coconut milk in their diets traditionally have lower rates of obesity and less heart disease.
If the coconut milk is too much for you, substitute half of the amount called for in the recipe with coconut water—it still focuses on the flavor of coconut. Because of the coconut water craze, you can find processed coconut water (VitaCoco, Zico, etc) at most well-stocked grocery stores."
Ingredients
1 pound firm white ocean fish, freshest available at your fish monger (halibut, yellowtail, sea bass all work well), cut into ¼" cubes
½ of a 14-ounce can coconut milk
6 sprigs of mint, plus additional for garnish
¾ cup fresh lime juice
1 to 2 fresh green or red arbol chiles (or Thai green chiles) stemmed, seeds removed (if you wish) and finely chopped
1 small purple onion, cut lengthwise into thin slices
Sugar to taste, usually a scant teaspoon
Salt to taste, usually 1 teaspoon
Cilantro leaves from ½ of a small bunch
Cooking Directions
In a small saucepan, bring the coconut milk to a gentle simmer over a medium-low heat. Hold the gentle simmer until the coconut milk reduces by about a quarter, about 6 to 8 minutes. Remove from the heat and add the whole mint sprigs. Cool completely; remove the mint sprigs and discard.
In a medium nonreactive bowl (glass or stainless steel are best), combine the fish and lime juice. Refrigerate the fish in the lime juice until it is as "done" as you like it—30 minutes to an hour for medium-rare, 3 to 4 hours for cooked completely through. Drain about half of the liquid from the fish; discard.
Add the reduced coconut milk, chile and onions to the fish mixture. Toss the mixture to coat, then season with salt and sugar. Garnish finished ceviche with cilantro leaves and additional mint leaves. Serve immediately.
Recipe Summary
Main Ingredients: white fish, lime juice, chiles
Course: Appetizer/Starter