Home
>
GMA
>
'GMA' Lunch Break: Michael Psilakis' Rigatoni With Chicken Sausage And Broccoli Rabe Recipe
'GMA' Lunch Break: Michael Psilakis' Rigatoni With Chicken Sausage And Broccoli Rabe Recipe
As Seen on the 'GMA' Lunch Break Live Stream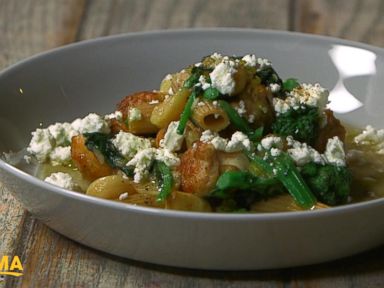 You can whip up Chef Michael Psilakis' recipe for this classic pasta dish following these easy steps.
From the kitchen of Michael Psilakis
"GMA" caught up with Greek chef and restaurateur Michael Psilakis in New York City. Psilakis showed us how to make his rigatoni with chicken sausage and broccoli rabe, a recipe from his new cookbook, "Live to Eat: Cooking the Mediterranean Way."
"A classic dish, but with modern proportions. Always use a short pasta for this dish so that you can catch all of the ingredients in one bite. Leave the seeds in the pepperoncini if you want a super spicy sauce," he writes in the book.
Watch the "GMA" Lunch Break live stream on ABCNews.com/live and the GMA Facebook page daily at 12:30 p.m. ET.
Ingredients
2 cups whole wheat rigatoni or other shaped pasta
Canola oil for the pot
8 small pepperoncini, with or without seeds, chopped
8 cloves garlic, thinly slicedd
4 cups broccoli rabe, blanched and shocked (see below), cut into bite-sized pieces
1/2 cup Garlic Puree (see below)
3/4 pound chicken sausage (about 3 links), cut into 1/2-inch pieces Kosher salt
Fresh ground black pepper
Grated pecorino cheese, optional
Crumbled feta cheese, optional
For the Garlic Puree:
Makes about 3 cups cloves / 5 cups with oil
3 cups peeled garlic cloves
1 fresh bay leaf or 2 dries
?8 to 10 sprigs fresh thyme
1 tablespoon kosher salt
?1 1/2 teaspoons black peppercorns
1 cup canola oil
1 cup extra virgin olive oil
Cooking Directions
Cook the pasta according to package directions. Drain, reserving 2 cups of the pasta water.
Wipe out the pot with paper towels, slick with canola oil, and heat over medium heat.
Add the pepperoncini and sliced garlic and sauté until the garlic is soft and fragrant.
Add 2 cups water, the broccoli rabe, and 1/4 cup of the garlic puree, then add the sausage.
Cook until the sausage loses its pink color. If the liquid in the pan has evaporated, add enough of the reserved pasta water to the pot so that it will coat all of the ingredients.
Transfer the pasta to the pot and stir in the remaining 1/4 cup garlic puree. Cook, tossing, until the sauce clings to the pasta. Season with the salt and pepper and serve warm with the cheeses for garnish, if desired.
Blanching and Shocking Broccoli Rabe:
Bring a large pot of salted water to a boil. Prepare an ice bath in a large bowl. Line a baking sheet with paper towels. Cut stalks with leaves into 1/2-inch pieces on the diagonal and cut florets off the stalk whole.
Working in batches, dump the broccoli rabe into the boiling water. Cook, checking every 30 seconds, until a knife pierces the vegetable with a little effort. The vegetable should be firm to the bite and look vibrant. Using a slotted spoon, transfer the broccoli rabe to the ice water to stop the cooking process and then dry on paper towels. If making ahead of time (recommended!), store in refrigerator for up to a week.
Garlic Confit & Puree:
Makes about 3 cups cloves / 5 cups with oil
Confited garlic is nothing more than the peeled cloves slow cooked in a bath of seasoned oil. This strips the raw cloves of their acidity, removes their sharp heat, and concentrates their sweetness. Use these soft cloves anytime butter or garlic is called for in a savory recipe, and especially if raw garlic is too harsh for you.
Garlic confit will last forever (okay, a month) as long as you put it in a clean jar, refrigerate it, and refrain from double dipping. If the spoonful of confit touches other food, don't put that same spoon back into the jar for more.
Preheat the oven to 300°F. Place garlic cloves, bay leaf, thyme, salt, and peppercorns in a heavy-bottomed, oven-proof pot. Pour the canola and olive oils over to cover. Cover, transfer to the oven, and bake until the garlic cloves are pale gold and tender (you should be able to smash them with the back of a spoon), about 50 minutes. Cool to room temperature.
To make 1 cup garlic puree, take 1 cup of garlic confit and place the cloves only into a food processor and process until smooth. Transfer the garlic confit (cloves & oil) and puree to clean, resealable jars and store separately for up to one month.
Recipes courtesy of "Live to Eat: Cooking the Mediterranean Way" copyright 2017 by Michael Psilakis / Hachette Book Group – Little, Brown and Company. Reprinted with permission for "Good Morning America."
Recipe Summary
Main Ingredients: rigatoni, pepperoncini, garlic, oil, chicken sausage
Course: Dinner, Lunch