Emeril Lagasse's Roast Beef Sandwiches with French Onion Dip and Crispy Shallots
Recipe Makeover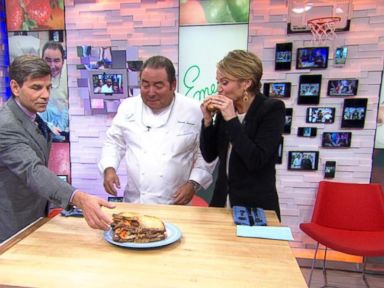 Viewers send pictures of their leftovers and get advice from Emeril Lagasse.
From the kitchen of Emeril Lagasse
Recipe fatigue is a common epidemic that infects every kitchen from time to time. Luckily, celebrity chef Emeril Lagasse has just the cure. He turned plain filet mignon off the grill into Roast Beef Sandwiches with French Onion Dip and Crispy Shallots.
Ingredients
2 tablespoons olive oil
2 tablespoons butter
1 small yellow onion, thinly sliced
3 large shallots, thinly sliced
3 green onions, thinly sliced, white and green parts reserved separately
1 clove garlic
1/2 cup mayonnaise
1/2 cup crème fraîche
1 tablespoon freshly squeezed lemon juice
2 teaspoons sea salt
1 pound thinly sliced roast beef
8 slices sourdough sandwich bread, lightly toasted
Crispy Shallots (recipe follows)
Cooking Directions
In a medium saucepan, heat the olive oil and butter over medium-low heat. Add the yellow onion, shallots, the white portion of the green onions, and the garlic. Cover and cook, stirring occasionally, for 20 minutes, or until the onions are completely soft. (Do not let them caramelize; if they begin to brown, add a little water to the pan.) Remove one-third of the mixture from the pan and set it aside. Transfer the remaining mixture to a blender and puree until smooth.
Combine the reserved onion mixture with the pureed onions in a bowl. Add the mayonnaise, crème fraîche, lemon juice, and sea salt, and mix well. Refrigerate, covered, for 2 hours and up to 24 hours.
Divide the roast beef among 4 slices of the toast. Spoon 3 tablespoons (or more to taste) of the onion sauce over the roast beef, and sprinkle with the fried shallots. Top with the remaining slices of toast, and serve with the remaining onion sauce on the side, if desired. (Any leftover onion sauce will keep in the refrigerator for up to 3 days and is wonderful with chips.)
Crispy Shallots
1 cup
3 shallots, thinly sliced, rings separated
2 tablespoons Crystal hot sauce or other Louisiana red hot sauce
1/2 cup all-purpose flour
Vegetable oil, for frying
Sea salt, for seasoning
In a small bowl, combine the shallots with the hot sauce. Add the flour to the bowl and toss to coat.
Pour vegetable oil in a small saucepan to a depth of 1 to 2 inches, and heat it over medium heat. Fry the shallots, in batches and stirring gently, until golden brown, about 1 minute. Using a slotted spoon, transfer the shallots to a paper-towel-lined plate. Season with sea salt. Best used the same day they are made. Store in an airtight container after cooling completely.
Recipe courtesy Emeril Lagasse, Emeril's Kicked-Up Sandwiches: Stacked with Flavor, Harper Collins Publisher, New York, 2012, copyright MSLO, Inc., all rights reserved. Styled by Karen Pickus for Good Morning America.
Recipe Summary
Main Ingredients: roast beef, sourdough sandwich bread, mayonnaise
Course: Lunch, Dinner