Emeril Lagasse's Roasted Asparagus and Penne Pasta Salad
Recipe Makeover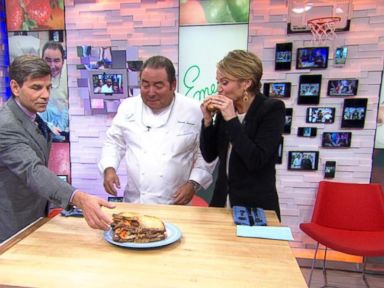 Viewers send pictures of their leftovers and get advice from Emeril Lagasse.
From the kitchen of Emeril Lagasse
|
Recipe fatigue is a common epidemic that infects every kitchen from time to time. Luckily, celebrity chef Emeril Lagasse has just the cure. He turned simple pasta into Roasted Asparagus and Penne Pasta Salad.
Ingredients
4 cups cooked leftover pasta, such as penne or rotini
1 cup bite-size pieces of roasted asparagus
3/4 cup provolone, cut into 1/4-inch cubes
1/2 cup thinly sliced sun-dried tomatoes, drained
1/2 cup thinly sliced prosciutto (1/4 pound)
1 tablespoon finely chopped fresh parsley
1 tablespoon finely chopped fresh basil
1 teaspoon minced garlic
1/2 teaspoon salt
2 teaspoons balsamic vinegar, or more to taste
1 teaspoon Emeril's Italian Essence, or other dried Italian herb mixture
1/2 teaspoon freshly ground black pepper
1/4 teaspoon crushed red pepper flakes
1/4 cup plus 2 tablespoons extra-virgin olive oil
Cooking Directions
Combine the pasta and asparagus in a salad bowl along with the provolone, sun-dried tomatoes, prosciutto, parsley and basil.
In a small bowl, mash together the garlic and the salt. Add the balsamic vinegar, Italian Essence, black pepper, and red pepper flakes. Whisk to blend. Gradually whisk in 1/4 cup plus 2 tablespoons of olive oil.
Add the vinaigrette to the pasta mixture and toss to mix. Serve immediately or cover and refrigerate until ready to serve. Adjust the seasoning by adding more vinegar and/or salt and pepper to taste.
Recipe courtesy Emeril Lagasse, copyright MSLO, Inc., all rights reserved. Styled by Karen Pickus for Good Morning America.
Other Recipes That You Might Like