Gwyneth Paltrow's Roasted Beet and Blue Cheese Salad
Try This Tasty Salad!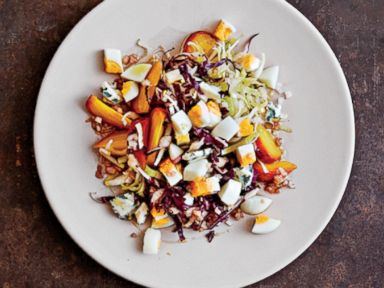 From the kitchen of Gwyneth Paltrow
Gwyneth Paltrow's latest cookbook features more than 125 recipes that are designed to be made fast, and with little or no sugar, fat or gluten. The Oscar winner appeared on "Good Morning America" today to share recipes from "It's All Easy: Delicious Weekday Recipes for the Super-Busy Home Cook." Try this recipe in your kitchen today!
Ingredients
FOR THE DRESSING:
2 tablespoons finely diced shallot
3 tablespoons champagne vinegar
2 teaspoons balsamic vinegar
1 tablespoon hazelnut oil
1/4 cup olive oil
Salt and freshly ground black pepper
FOR THE SALAD
4 ounces crumbled blue cheese, such as Roquefort
8 small golden beets, cooked, peeled, and cut into roughly 1/2 -inch pieces*
4 handfuls of thinly sliced radicchio (from about ½ medium head)
2 endives, thinly sliced
2 tablespoons finely diced shallot
Four 9-minute eggs, peeled and cut into roughly ½-inch pieces
*I think roasted beets taste best; wrap them in aluminum foil with salt, pepper, a little olive oil, and a splash of vinegar, place on a baking sheet, and roast in a preheated 400ºF oven for 1 hour. However, if you're short on time, you can also boil them in lightly salted water until tender, or you can buy them cooked at many grocery stores, which makes this salad a breeze to throw together.
Cooking Directions
Much to my children's chagrin, our house is always stocked with an impressive assortment of stinky cheeses, at least one of which is blue. I'd eat blue cheese on almost anything, but its tangy flavor is particularly well balanced by the earthy sweetness of roasted beets and slightly bitter radicchio and endive in this salad. Use red beets if you can't find golden, but be warned: their gorgeous magenta hue will dye the entire salad a shocking shade of pink.
To make the dressing, whisk together the first 5 dressing ingredients and season to taste with salt and pepper.
To make the salad, combine all the salad ingredients in a large bowl and toss with half the dressing. Taste for seasoning, transfer to plates or a large platter, and serve with the remaining dressing on the side.
Recipe styled by Karen Pickus, chef/food stylist, "Good Morning America."
Excerpted from the book IT'S ALL EASY by Gwyneth Paltrow. Copyright 2016 by Gwyneth Paltrow. Reprinted with permission of Grand Central Life & Style. All rights reserved.
Recipe Summary
Main Ingredients: beets, blue cheese, radicchio, oil and vinegar
Course: Salad
More Info: Kid Friendly, Vegetarian, Wheat/Gluten Free