Home
>
GMA
>
Recipes Home
>
Emeril Lagasse's Roasted Beet Salad with Walnut Dressing and Cheese Crisps
Emeril Lagasse's Roasted Beet Salad with Walnut Dressing and Cheese Crisps
A Kicked Up Salad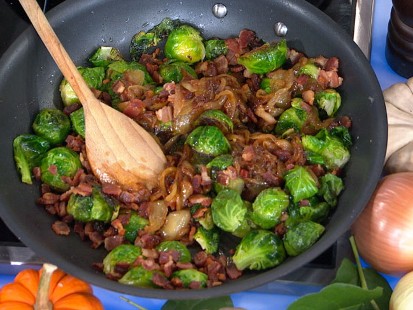 Lagasse whips up voter favorite roasted Brussels sprouts with caramelized onions and pancetta.
From the kitchen of Emeril Lagasse
|
Emeril Lagasse's phrase, "kick it up a notch" became famous for a reason—the New Orleans-raised chef raises flavors to the next level. This year, take your Thanksgiving to Emeril's star status with his recipe for Roasted Beet Salad with Walnut Dressing and Cheese Crisps.
Ingredients
3 to 4 small red and/or golden beets, tops removed, washed
1/2 cup plus 2 tablespoons olive oil
3 tablespoons water
1/2 teaspoon salt, plus more for seasoning
1/4 teaspoon freshly ground black pepper, plus more for seasoning
1/4 cup sherry vinegar or Banyuls vinegar (see note below)
1 tablespoon finely chopped shallot
1 tablespoon honey
1/4 teaspoon Dijon mustard
1/2 cup grapeseed or olive oil
1/2 cup chopped toasted walnuts
1 teaspoon minced fresh tarragon leaves
1 bunch baby dandelion greens, stems removed, leaves rinsed and cut into bite-size pieces
(about 6 cups or 6 ounces of greens)
1 bunch rainbow chard, stems removed, leaves rinsed and cut into bite-size pieces
Cheese Crisps (recipe below)
Cooking Directions
Preheat the oven to 350°F.
Cut a piece of aluminum foil about 12 inches square. On one half of the square, place the beets, 2 tablespoons olive oil, water, ¼ teaspoon of the salt, and 1/8 teaspoon of the pepper. Fold the opposite side of the foil over to cover the beets, and seal all the edges tightly to form a packet. Place the packet on a baking sheet, transfer it to the oven, and cook until the beets are tender, about 45 minutes. (The beets are done when a paring knife is easily inserted into the middle.) Remove the packet from the oven and set it aside, unopened, for about 10 minutes.
Remove the beets from the foil packet. When the beets are cool enough to handle, gently rub off the skin, using a paper towel. Slice the beets into 1/8-inch-thick rounds (use a mandoline if you have one), and set aside.
Combine the vinegar, shallot, honey, mustard, remaining ¼ teaspoon salt, and remaining 1/8 teaspoon pepper in a blender, and mix well. While the blender is still running, add the oil in a slow, steady stream, blending until the vinaigrette is emulsified. Transfer the dressing to a mixing bowl, and stir in the walnuts and tarragon.
Place the dandelion greens and the chard in a large bowl. Pour 2 tablespoons (or more to taste) of the dressing over the greens, and season with a pinch of salt and pepper. Toss to coat. In a separate mixing bowl, toss the sliced beets in 1 tablespoon of the dressing, and season with a pinch of salt and pepper.
Divide the greens among four to six serving plates, and garnish with the sliced beets and the Cheese Crisps. If desired, spoon more dressing over each salad.
Note: Banyuls vinegar is made from Banyuls wine, which is a fortified wine from southern France and is considered to be the French version of port. Banyuls vinegar has a sweet and nutty flavor, which is generally thought to be milder than red wine vinegar or balsamic vinegar. It tastes something like a cross between balsamic vinegar and sherry vinegar and either can be used as a good substitute. Banyuls vinegar can be found in specialty markets.
Cheese Crisps
Yield: 12 crisps
3/4 cup shredded hard sheep's milk cheese, such as Bianco Sardo
Preheat the oven to 350°F. Line a baking sheet with a Silpat, or parchment paper.
Spacing them 1 to 2 inches apart, place 1-tablespoon mounds of the cheese on the Silpat. Place the baking sheet in the oven and cook until the cheese melts and turns golden brown, about 7 minutes.
Remove from the oven and set aside to cool on the baking sheet. Use the crisps as a garnish for soups and salads.
Recipes courtesy Emeril Lagasse, from Farm to Fork: Cooking Local, Cooking Fresh, Harper Collins Publisher, New York, 2010, copyright MSLO, Inc., all rights reserved
This recipe was styled by chef Karen Pickus for Good Morning America.
Other Recipes That You Might Like