Chrissy Teigen's Roasted Cauliflower, Feta, and Orzo Salad
Try This Vegetarian Dish!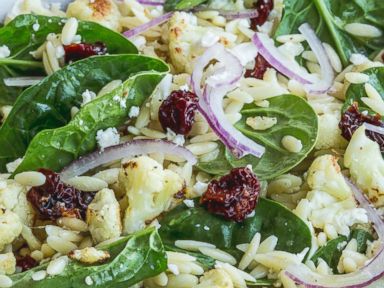 From the kitchen of Chrissy Teigen
Model and "The Fab Life" co-host Chrissy Teigen is sharing her love of cooking in her new book, "Cravings: Recipes for All the Food You Want to Eat." Try this recipe from "Cravings" at your next meal!
Ingredients
For the CAULIFLOWER AND ORZO:
1 small head cauliflower, broken into small florets (about 5 cups)
4 tablespoons olive oil
3 cloves garlic, minced
1 teaspoon kosher salt
1/2 teaspoon freshly ground black pepper
1 cup orzo pasta
For the DRESSING AND SALAD:
3 tablespoons extra-virgin olive oil
3 tablespoons fresh lemon juice
1 teaspoon honey
1 teaspoon Dijon mustard
1/2 teaspoon kosher salt, plus more to taste
1/2 teaspoon freshly ground black pepper
1/4 cup thinly sliced red onion
1 cup crumbled feta cheese (see Note)
2/3 cup dried cherries
4 cups baby spinach
Cooking Directions
"I have my closest girlfriends over whenever possible. The only way I can even kiiiiind of make up for the countless missed milestones and baby births and weddings is by showering them with gift-bag-giveaway parties or having our wonderfully talented and hilarious friend Chef Roblé (and Adam! Hi, Adam!) come over and teach us a few things. This salad is one of the best things he has ever made for us. It sits out well on the counter for parties, it's beautiful, and it's full of flavor you can feel free to have fun with—add different nuts and dried berries, some quinoa, or chia seeds (if you wanna ruin it in the name of fiber)."
PREPARE THE CAULIFLOWER AND ORZO: Preheat the oven to 400°F. In a bowl, toss the cauliflower with 3 tablespoons of the olive oil, the garlic, salt, and pepper. Spread on a rimmed baking sheet and roast until softened and the edges are charred, 20 to 25 minutes. Let cool and set aside.
Meanwhile, in a pot of salted boiling water, cook the orzo according to the package directions, but for 1 or 2 minutes less than called for (so it's just a little underdone). Drain in a colander, rinse under cold water, drain well, and toss with the remaining 1 tablespoon oil right in the colander.
MAKE THE DRESSING AND TOSS THE SALAD: In a big bowl, whisk together the olive oil, lemon juice, honey, mustard, salt, and pepper. Add the cooked orzo, roasted cauliflower, onion, feta, and cherries and toss until coated with the dressing. Throw the spinach on top and toss one more time. Taste, and add more salt if you'd like.
NOTE: The French kind of feta cheese is a little creamier and milder, the Greek is a little saltier. Take your pick.
Reprinted from Cravings: Recipes for All the Food You Want to Eat. Copyright © 2016 by Chrissy Teigen. Photographs copyright © 2016 by Aubrie Pick. Published by Clarkson Potter/Publishers, an imprint of Penguin Random House LLC.
Recipe styled by Karen Pickus, chef/food stylist, "Good Morning America."
Recipe Summary
Main Ingredients: cauliflower, orzo, olive oil, cherries, feta cheese, spinach
Course: Appetizer/Starter, Dinner, Main Course, Lunch, Salad