Roasted Cherry Tomatoes with Ricotta
A Delicious Crostini Appetizer From Franny's Restaurant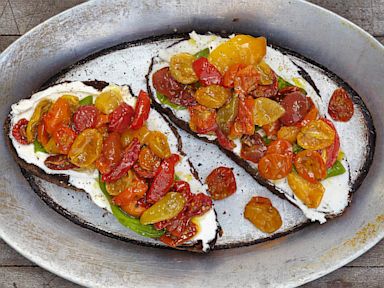 From the kitchen of Franny's
"In these simple yet stunning crostini, roasted tomatoes are paired with fresh, creamy ricotta, which also acts as an anchor for the tomatoes, keeping them from falling off the toast as you eat. In making these crostini, you want to pile the tomatoes as high as you can for a truly spectacular summer snack."
Ingredients
4 cups assorted cherry tomatoes
¼ cup extra-virgin olive oil, plus more for drizzling
¼ teaspoon kosher salt, plus more to taste
Four ¾-inch-thick slices country-style bread
1 fat garlic clove
¼ cup fresh ricotta
Freshly cracked black pepper
8 basil leaves
Flaky sea salt, such as Maldon
Cooking Directions
With a rack in the middle, preheat the oven to 250°F. Toss the tomatoes with the olive oil and salt. Spread out on a small baking sheet; the tomatoes should just fit on the baking sheet, without crowding. Roast for 2 hours.
Reduce the heat to 200°F and roast the tomatoes for 1 ½ hours longer, until shriveled and golden-edged. Cool the tomatoes completely on the baking sheet, then transfer, along with the oil from the pan, into a bowl.
Preheat the broiler. Drizzle one side of the bread slices with olive oil. Toast, oil side up, until golden and crisp, 1 to 2 minutes. Rub the toasted side of the bread with the garlic.
Put the ricotta in a small bowl and season generously with salt and pepper. Spread 1 tablespoon of the ricotta on each toast. Lay 2 basil leaves on each one. Mound the tomatoes on the toasts. Season with sea salt and lots of pepper. Drizzle each toast with about 1 teaspoon of the roasted tomato oil and serve.
Excerpted from Franny's by Andrew Feinberg, Francine Stephens, and Melissa Clark (Artisan Books). Photos by John von Pamer. Copyright © 2013.
Recipe Summary
Main Ingredients: cherry tomatoes, olive oil, country-style bread, ricotta, basil
Course: Appetizer/Starter, Party Platter, Snack